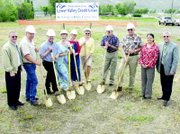 PROSSER - With an eye on offering extended services to its clients in the Prosser and Benton City areas, the Lower Valley Credit Union Board of Directors broke ground on a new office in Prosser yesterday (Tuesday).
The new 2,660 sq. ft. building, complete with a double drive-thru lane, will be located south of Tom Denchel Ford, near the intersection of Gap Road and Wine County Road. Bestebreur Bros. of Sunnyside have been chosen as general contractor for the project. Plans are to open the new office within five months, said Dave Ballinger, manager of the Sunnyside-based Lower Valley Credit Union.
"We are hoping to increase membership in the Prosser area, but we also want to expand our services to our existing customers living in the Prosser, Benton City area," Ballinger said. Currently, the Lower Valley Credit Union boasts a total membership of approximately 4,900 members.
The Lower Valley Credit Union has had an office in the Prosser area handling loan applications and approvals since February 2000.
But since 22 percent of the Credit Union's members already reside in the Prosser and Benton City areas, Ballinger's board of directors felt it was time to build a full-service branch office in the community.
"We're excited about being able to bring this type of service to our Prosser customers," Ballinger added.
When completed, the Prosser office will provide a full range of credit union services, including savings accounts, certificates, IRAs, as well as direct deposit, traveler's checks, money orders and all manner of consumer loans, he explained.
Currently, the Prosser branch office employs Gil Shaw as senior loan officer and Shawna Don as a part-time secretary. When completed, the new office will employ four full-time people and one-part time person, Ballinger said.
The Lower Valley Credit Union was established in 1952 in Sunnyside, offering credit union services to Lower Valley residents from Benton City to Wapato. The Sunnyside office, at 301 S. Seventh St., currently employs 11 employees and has total assets of more than $35,000,000.