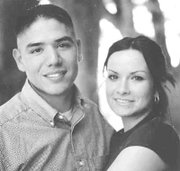 The Sunnyside Grace Brethren Church will be the setting of the wedding ceremony uniting Jessica E. Hernandez and Omar C. Santoy, both of Sunnyside. The wedding will be at 3 p.m., Saturday, Aug. 20, 2005.
The bride-to-be is the daughter of Ruben and Betsy Hernandez of Sunnyside. She is a 2001 graduate of Sunnyside High School. She holds an Associate of Science degree and is currently attending nursing school. She is employed in the emergency department at Yakima Regional Hospital.
The groom-elect is the son of Antonio and Maria Santoy of Sunnyside. He graduated from Sunnyside High School in 2000 and will soon be graduating from Central Washington University with a degree in law and justice and a minor in sociology.