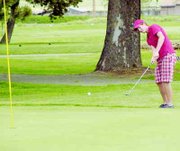 An impromptu match-up between the Grandview and Sunnyside boys golf teams went the Greyhounds' way yesterday afternoon.
Paced by junior Andrew Michels' 1-under-par 71, Grandview claimed a 348-405 victory in what was the regular season finale for both clubs.
The format of yesterday's hastily arranged match was vastly different than a regular varsity competition. In an effort to give both teams' junior varsity players a competitive outing, the three low varsity 18-hole rounds were combined with the two low JV 9-hole rounds for the team scoring.
Michels, who will be seeking a return trip to the State tournament at the 2A District match in Chelan next Tuesday, easily bested all challengers yesterday at Black Rock Creek Golf Course. He fired a 1-under 35 on the front nine Tuesday, shooting an even-par 36 after the turn.
"I know Andrew had a bogey on No. 16, which meant he had at least two birdies yesterday," said Grandview Coach Dave Ugetti.
Second in for the 'Hounds was senior Sean Tudor, who like Michels will be seeking one of the 10 State tournament berths offered at next Tuesday's District match. Tudor, who competed at last year's State tournament, posted a 3-over 39 on the front side yesterday, finishing with a 5-over 41 on the back nine for an overall 80.
David Trevino posted the third low 18-hole round for Grandview on Tuesday. He absorbed a 95.
The Greyhounds' two low 9-hole rounds were a 49 and 53, claimed by sophomores Chad Larson and Aaron Riggs, respectively.
Sunnyside's 9-hole scores weren't in the same ballpark as Grandview's. Riley Moore took a 72 on the front side, and Derek Abrams stumbled in with an 83.
The low 18-hole round for the Grizzlies was snared by Zack Hathaway. He posted a 9-over 81. Justin Bos and Andrew Schutt added 18-hole rounds of 83 and 86, respectively.
Sunnyside competed without its top golfer, senior Kevin Lick. Grandview was also missing one of its varsity golfers, Ryan Dill.
The Grizzlies are scheduled to travel to Spokane next Monday for the District tournament. The low 12 individual scorers at Qualchan Golf Course will earn berths to the State tournament, also to be held at Qualchan.
Sunnyside Coach Glenn Braman took his team to the Spokane course last Saturday to get in a practice round, and said Qualchan will provide a good test for all who compete there next Monday.
"It's a tough track," he said. "There are five or six holes there that can ruin a good score for somebody."