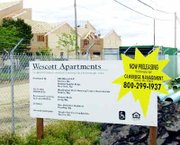 In case one hasn't noticed, there is something peeking above the skyline along South Sixth Street.
Ground was broken on the Sunnyside site Feb. 16, said site construction supervisor Darrell Wynn of Vaughn Bay Construction.
The complex will be referred to as The Wescott Apartments, which sits near the building that used to house St. Joseph Catholic School. The towering structure is in the area of Fifth Street and East Harrison Avenue. Access to the apartments will come off Harrison Avenue at the end of Fifth Street.
Wynn said there will be 26 apartments in all, spread across two buildings, which will house 13 units apiece. The units sit on nearly one acre of property.
Wynn is expecting to have the apartments ready for occupancy by Aug. 1 of this year.
The apartments are three to four bedrooms in size and will have two bathrooms apiece. The size of the homes will stretch between 1,200 and 1,500 square feet.
Cambridge Management of Tacoma will manage the apartment units.
Wynn said the site should be a nice addition to the community once it is completed. There will be an asphalt driveway, vinyl windows and all will be rated as energy efficient homes. Wynn said there will be cable television access in all of the bedrooms and living rooms.
"There is some thought that went into this," said Wynn.
Wynn is excited about the project and feels it is a needed addition to the community of Sunnyside.
"They are just going to be nice apartments, where neighbors can get to know each other," said Wynn.