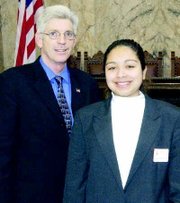 OLYMPIA - Sunnyside High School freshman Angela De La Barrera recently returned from a one-week stay in the state capital.
The ninth grader, the daughter of Maria and Alfredo De La Barrera of Sunnyside, was recently sponsored by Rep. Bruce Chandler to serve as a legislative page in the state House of Representatives in Olympia. She spent April 11-15 learning about state government and getting a behind the scenes look at how things work.
As a page, De La Barrera observed the legislature in action and was responsible for delivering messages and documents to legislators in their offices, committee hearings and the House chamber during floor sessions.
De La Barrera, 15, serves as a volunteer with the Latchkey program and is involved in the One-to-One program at Children's Village.
To become a page, applicants must have a legislative sponsor and be between the ages of 14 and 17. Pages are required to hold a grade point average of a C+ or better, and must obtain written permission from their parents and school officials.