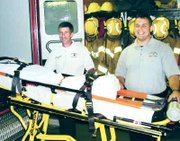 They answer for emergency aid at the scenes of car accidents, as well as hazardous waste spills on a 24/7 basis. You can find them offering first aid and comfort in homes or businesses after an injury or medical crisis.
They are the Emergency Medical Service providers and May 15-21 is their week - National Emergency Medical Services Week.
In Sunnyside, the Sunnyside Fire Department's 13 paid emergency medical service providers work to offer aid in times of crisis and to educate the public in order to help prevent injuries from happening, said Aaron Markham, Sunnyside Fire Chief.
"These guys work 24 hours a day, seven days a week to help keep our community safe," he said.
Markham said his department has seven full-time firefighters with EMT certification, as well as six members trained in advance cardiac life support care. They are constantly training and updating their certifications to give the community the best care possible under difficult situations, he added.
For example, Sunnyside Fire Capt. Ryan Case is currently taking training in a two-year program to be certified as a paramedic, Markham said.
Even the Sunnyside Fire Department's corps of 25 volunteers are either trained as emergency medical technicians or as first responders, Markham said.
"It's all part of our efforts to provide the best emergency care we can to the community," he said.
But there are things the community can do to ensure its personal safety, said Kathy Williams of the Washington office of the Emergency Medical Services and Trauma System. She said residents can help honor emergency service providers by staying safe.
She said residents can implement these safety measures:
• Wear their seatbelts every time they are in their vehicle and make sure all passengers in the vehicle are buckled up.
• Keep children in the appropriate restraint system until they are old/big enough to wear a standard seat belt.
• Drive legally and safely; drive the speed limit, keep space between vehicles and be cautious of other drivers.
• Wear a life jacket when on the water: for children age 12 and under it is the law. Make sure children wear properly fitting life jackets when playing around the water or on the deck.
• Wear a bicycle helmet every time you ride, regardless of age - everyone needs a helmet.
• Test smoke alarm at least twice a year, and
• Check home and yard for trip and fall hazards such as loose rugs, stair/banisters and unsecured electrical cords. Install grab bars in the bathroom.
These efforts and enforcement of safety laws contribute to the health and safety of people in communities and in the state," Williams said.
Williams said in 2004 Washington had the lowest number of traffic fatalities since 1961. "Our state also had one of the highest rates of seat belt use in the country at 94 percent, and a 75 percent rate of age appropriate children restraint systems," she said.
Williams said the high percentages were due in large part to the efforts of emergency service workers, who not only help citizens in emergencies but who offer educational classes to reduce injuries.
"These providers are here 24 hours a day and it is right we take time to honor them this week," Williams said.