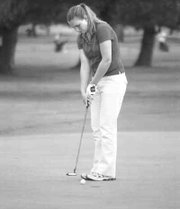 Grandview sophomore Chante Bottineau bested the field Thursday at Black Rock Creek Golf Course in a non-league match between the Lady Greyhounds and the Sunnyside High School girls golf team.
Bottineau's 14-over-par 50 in the nine-hole match paced Grandview to a 222-240 victory.
Yesterday's match-up was the regular season finale for both clubs. Sunnyside's girls will play in the 3A District tournament at Spokane's Hangman Golf Course next Monday, where the low 12 individual scorers will move on to State. The Grandview girls are scheduled to compete at the 2A District tournament next Monday at Leavenworth Golf Course.
In closing out the regular season yesterday afternoon, Nicole Southern posted the low score for the Lady Grizzly linksters. Playing the front nine at Black Rock Creek, Southern shot a 52, just two strokes back of the medalist Bottineau.
Sunnyside Coach Gary Rohde said for Southern, the 52 she carded Thursday was her low nine-hole score of the season.
"She closed with a par on No. 9," said Rohde. "It was just a pretty consistent round for Nicole yesterday."
Dacia Drollinger and Megan Downing weren't all that far back of their teammate Southern. Drollinger toured the front nine with a 58, and Downing was one stroke back with a 59.
Sunnyside's Vicky Castro and Emily Shuttleworth each posted a 71 in the nine-hole match. Although their scores weren't applied to the Sunnyside team total, Julie Wedam and Paloma Mata also golfed nine holes yesterday.
Other than Bottineau's score, the rest of the Grandview team results were not available this morning.