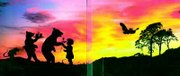 by Rachel Bott
There are many faces in the spectrum of country music today. Turn on your radio for countless examples.
It is not often, however, that someone comes along who adds incredible new qualities to country, while still holding onto its genuine roots so dearly. Ryan Adams is that very someone, though you won't hear him on the radio stations around here.
Not overplayed, but polished and clever are his character and musical attributes. Past albums "Rock and Roll" and "Gold" prove the point nicely that country is not Adams' only passion or talent.
This time, Adams joins J.P. Bowersock, Cindy Cashdollar, Brad Pemberton, Catherine Popper and Rachael Yamagata for a defining success in the alt-country world. "Cold Roses," the two-disc set released early this month, speaks of love and nature entwine together seamlessly.
In Meadlowlake Street, Adams' vocals are icy raindrops falling on a window, growing to a windy thunderstorm as the song progresses.
When Will You Come Back Home demonstrates that there's something extraordinary in the way the voices roll, reach and even crack in unison.
This album resonates vibrantly with five varieties of guitar, lap steel, piano, harmonica and voices that are a priceless instrument in themselves.
Cherry Lane and Easy Plateau are two examples of a band that can pull off a quirky twang and silky groove that never becomes routine-like or irritating.
I'll just say it. It sparked all the emotions I knew I had in listening to it even the first time. I believe it's because I don't hear a studio feel in each song. It's merely a group of friends that eagerly write music and work it out together, playing music all night long. It's in knowing that it has flaws, it's not perfect, that makes it so real and therefore enjoyable.
It's at this moment that I am ridiculously anxious for the future two albums, guaranteed being released before the close of 2005.
It's not necessary for me to hype this Ryan Adams & The Cardinals CD as a four-star selection. Give it a listen, and it will be obvious to you, too.
. Rachel Bott is a music enthusiast who works as a para-professional at Outlook Elementary School.