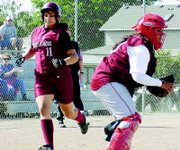 GRANDVIEW - Things turned around for the Lady Greyhounds Thursday afternoon as they racked up two league wins over Toppenish.
The doubleheader ended with Grandview winning by scores of 6-4 and 12-2.
The Grandview girls scored their first five runs of the first game in the opening inning.
"We thought it was going to be pretty smooth sailing," said Grandview Coach Doug Hansen.
But Toppenish came back to score in the second, third and fourth innings, before Grandview answered back with another run in the sixth inning of the game. Grandview never trailed the Wildcats.
Starting pitcher for Grandview was senior Sarah Trevino, who pitched into the second inning before senior Mari Cornejo came in.
Helping hit for the Lady 'Hounds in the first game were Trevino, who was 2-for-4 with 1 RBI, Zulema Cornejo, who was 2-for-3, and Felisha Cruz, Mari Cornejo, Cheyanne Trevino, Olivia Macias and Aiko Oki, who each had one hit.
Hansen said his team started the second game of the afternoon looking relaxed.
In the bottom of the first inning, senior Cheyanne Trevino slapped an inside the park home run that brought in three runners.
"With two outs that was really big," Hansen said of the senior's efforts.
And batting runners in wasn't something that ended after the first inning for Grandview. The Lady 'Hounds continued to score, scoring three runs in the third inning, four runs in the fourth and two runs in the fifth.
"It was a pretty nice game," Hansen said.
Trevino was 2-for-2 with 1 RBI in the second game, Mari Cornejo was 1-for-1 with 2 RBIs, Zulema Cornejo was 1-for-2 with 2 RBIs, Cheyanne Trevino was 1-for-3 with 4 RBIs, Rocky Rodriguez was 1-for-2, Olivia Macias was 1-for-3, and Graciela Lupercio was 1-for-1.
Grandview will take to the field for its last games of the regular season Saturday, March 21, at 11 a.m. against Ki-Be.