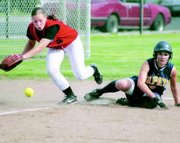 Sometimes one doesn't have to be great, they just have to be consistent.
And that was the case for Sunnyside High School fastpitch hurler Sammy Garcia.
Garcia led the Lady Grizzlies in yesterday's one-game playoff with Wapato for the Mid-Valley League's No. 6 seed into Saturday's District tournament in Richland.
Sunnyside dashed Wapato's postseason hopes with a 5-2 victory over the Lady Wolfpack before a capacity crowd yesterday.
"We had a great crowd," said Sunnyside Coach Ralph Mendoza.
Mendoza said he was glad to see the community come out and support the Lady Grizzlies yesterday.
Garcia tossed a commanding four-hitter in a complete-game outing yesterday. Garcia only had one walk and one strikeout, which came against Wapato's final batter.
"She is throwing hard," said Mendoza. "She is consistent. You can't ask for anything else."
The defense of the Lady Grizzlies struggled early in the game, as two miscues led to lone runs by Wapato in the first and third innings.
But despite four errors in the game, the Lady Grizzlies were able to get things going on the other side of things.
Sunnyside jumped on Wapato early, scoring four runs in the first three innings.
Jessica Cruz tied the game for Sunnyside in the bottom of the first inning, scoring a run after an error by Wapato's third baseman. The Lady Grizzlies took the lead for good by plating two runs in the bottom of the second. With a runner on and two outs, Jessica Cruz, who had a tremendous afternoon, ripped a two-run single. Sunnyside added a run in the third inning when Samantha Taylor singled to plate Lacey Yanez. Cruz added the icing on the cake for the Lady Grizzlies with an RBI double in the bottom of the sixth.
"She was clutch all night long," said Mendoza.
Mendoza said what was key in the game was that his players were patient at the plate, drawing four walks in the game.
Wapato's pitcher calmed things down in the middle of the game, holding Sunnyside scoreless in the fourth and fifth innings.
"She was consistent," said Mendoza.
Mendoza said Wapato's pitcher threw strikes when she needed. Mendoza added that Wapato's pitcher was able to force Sunnyside to put a lot of ground balls into play.
Cruz finished the game 2-for-4 at the plate. Taylor and Jones also had two of Sunnyside's other four hits.
The Lady Grizzlies were able to take advantage of five Wapato errors.
Saturday's District tournament playoff game will be held at 11 a.m. in Richland at the fields near Richland High School. The facility is located near the hospital in Richland. Even though Sunnyside drew West Valley, which dominated league play this year along side Hanford, Mendoza is excited to be in the postseason.
"Softball is a unique game," said Mendoza. "Anybody can beat anybody. We have just got to be ready."