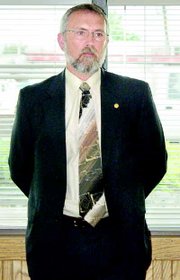 More than 20 people packed into the meeting room of the SunnySpot Restaurant this morning to learn of the outcome of the most recent legislative session in Olympia.
Sen. Jim Honeyford and Rep. Dan Newhouse were on hand at the Sunnyside Republican Club meeting Friday morning to give brief reports on what occurred during the last session.
Honeyford said the session, which went 105 days, was very different with questions over Gov. Christine Gregoire's election as governor.
"It was disappointing overall," he said.
Honeyford said that 98 bills were passed this session with an emergency clause, so the issues can't be voted on by the people through a referendum.
"None of them had a true emergency," said Honeyford.
He said that there were a few distinctive things that marked the session, including paybacks to the unions, the budget and unnecessary tax increases, and restoring voter's confidence in the election process.
Honeyford said that part of the governor's plan was to require that 15 percent of workers on large public works projects be union apprentices.
"I believe this discriminates against small contractors and non-union employers because they can't afford to have apprenticeship programs," said Honeyford. He added that the bill also discriminates against students and schools such as Perry Technical Institute.
Honeyford said that state Democrats decided to increase the pay of unionized state employees, but to delay raises to the rest of the non-union employees for two months, thus saving the state $10 million.
Honeyford said that upon closer inspection, the state would have to upgrade its outdated computer system, which would cost about $10 million, to only raise the pay of union employees.
"I'm not sure why they decided to continue to hold off raising the rest of the employees' pay," said Honeyford.
Honeyford said he has been against a fire department union request that would mandate a certain response time and staff levels at fire departments.
"I believe, and many people believe, this will be a basis for fire departments being sued," said Honeyford.
He said there are unforseeable cases when a fire department may arrive one or two minutes beyond their allotted response time, which would open cities up for lawsuits.
Looking at the budget, Honeyford said there was an unexpected increase of 7 percent to the state coffers in the form of revenue. Rather than cutting back and paying down debt, the governor approved spending 12 percent more than the last biennium, which is 5 percent more than the state will receive in revenue.
Honeyford added that there has also been the reinstatement of the "death tax," warranties on appliances or a new vehicle are now subject to taxes and alcohol and tobacco taxes have increased.
Honeyford said with a Democratic majority in the House and Senate, there was also an elimination to 601, which now allows the state to increase taxes without voter approval.
Honeyford added the state could be even further in debt with the current budget because a large enough reserve wasn't left to help extinguish possible summer forest fires.
One good thing that came out of the budget, he said, was that funding was secured for a carousel museum in Bickleton. The museum will display the old carousel horses during the year when the carousel is not in operation.
"I believe that will be a tourist attraction for them," said Honeyford.
Honeyford is probably most dissatisfied with the lack of changes to election laws.
He said Democrats removed the potential ban on voter shopping, which would keep people from going door-to-door seeking signatures to validate ballots. He said also cut from the bill was a prohibition on enhancing ballots, the need to show photo identification to vote and a clause allowing the Secretary of State to check citizenship. Honeyford said that people can vote after showing a copy of a utility bill.
He added that it also allows people to vote who do not have a state identification card, driver's license or Social Security number.
Honeyford said there is also a push for more mail-in voting.
"Voting by mail is fraught with voter fraud," he said. Honeyford anticipates the state will go to a 100 percent mail-in system by 2012.
Newhouse also addressed the Sunnyside club on state issues.
He said that with the possibility of another governor's race this fall, this session was a time for the Democrats to push several bills through while they had the majority in the house and senate and the governor's seat.
He said the environment was a topic that came up in several bills this year.
One of the bills will require that all vehicle sold in the state will have to comply with the clean air standard the state of California is developing.
Newhouse said the standard, which will increase the purchase price of cars, is still down the road a couple of years since California is still adjusting its rules.
He said there has also been a push to make state-funded buildings high-performing, green buildings.
"Schools have a difficulty coming up with money to begin with," he said. "This is going to add to the burden."