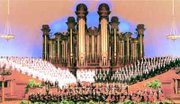 SPOKANE - The scenery isn't the most splendid one can see while motoring the three hours or so to Spokane, but the trek may well be worth it on Tuesday, June 21.
That's the day the world-renowned Mormon Tabernacle Choir will be in concert at the Spokane Arena. The 360-member choir will be joined by a 25-piece ensemble from the Orchestra at Temple Square for the concert, set to begin at 8 p.m. that evening.
The choir has appeared at world's fairs and expositions, performed at the inaugurations of five U.S. presidents and sung for numerous worldwide telecasts and special events. The choir's last appearance in Eastern Washington was in 1974.
According to LDS bi-stake public relations director Larry Connell, a block of reserved seat tickets has been obtained and may be purchased by contacting him at (509) 966-8151. The purchase of tickets from this block will qualify for a 10 percent discount on the $30, $40 and $60 tickets, and will also avoid the individual ordering fees.
Connell said charter bus service, at $20 per seat, is available by calling the same number for tickets. Bus service will leave Yakima at 3:30 p.m. the same day of the concert, and is scheduled to arrive back in Yakima at about 1 a.m. Wednesday morning.
Tickets to the June 21 concert are also available on-line at: www.ticketswest.com.