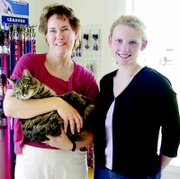 Things may be in transition at Sunnyside's Pet Health Clinic, but not too much is changing.
Last Friday marked the last day of work in the local animal clinic for veterinarians Chad and Denise Pilgeram. The couple, who have owned the practice for the last decade, decided it was time to pack their bags and move closer to family.
But just because the Pilgerams are leaving, it doesn't mean things are about to change at the clinic. Instead, veterinarian Sherrie Hockett, who has practiced alongside the Pilgerams for more than four years, is taking over the practice.
Hockett said she plans to keep the Pet Health Clinic operating in much the same way it has for the past 10 years. She said over the years she has had a chance to care for many of the clinic's regular patients and doesn't think that making the transition between owners should be too traumatic.
Hockett said when she learned the Pilgerams were planning on leaving she decided that instead of having the clinic sold to someone else, she wanted to maintain control of the practice and continue offering the same level of service to the clinic's clients.
But Hockett isn't the only veterinarian who will be working at the Pet Health Clinic. This past Monday, veterinarian Sheila Juergens joined the staff.
Juergens, who lives in Sunnyside, had been working at a small animal veterinary practice in Yakima and wanted to work somewhere closer to home.
"She's dedicated to helping animals," Hockett said of Juergens.
Juergens, who is originally from Deer Park, said she moved to Sunnyside two years ago. She said over the years she has worked on both large and small animals. She said before she had her first child she worked exclusively with horses, but has since moved on to working with small animals like dogs, cats and other household pets.
Juergens said she is excited to be working at the Sunnyside animal clinic and is looking forward to meeting new people and new animals.
"I'm excited about working down here where I live," she said.
In addition to the two veterinarians, the Pet Health Clinic employs five staff members. Hockett said the clinic staff deals with everything from animal medication to surgery and dentistry.
For Chad Pilgeram the hardest part about leaving behind his practice is the emotion involved in leaving behind his patients and their owners.
"It's a stonger bond than you can believe," Pilgeram said.
Although the couple is leaving their practice in Sunnyside, Pilgeram said he hasn't ruled out working at another animal clinic once his family moves. He noted that his family is currently looking at relocating to the Spokane area.