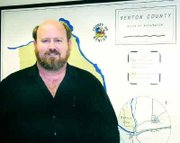 GRANDVIEW - Long-time Grandview City Councilman Norm Childress is adapting to his new role as the leader of the community.
Childress, 46, took over the role of mayor from Mike Bren, who announced his resignation at the end of last year. Childress was voted to the spot of mayor by his fellow councilmen.
When Childress is not spending his time trying to make the community of Grandview a better place to live, he is busy attempting to make the 870-plus miles of roadway in Benton County a safer place to drive. Childress has been a traffic engineer for Benton County for the last 27 years.
"I like what I do. It is a stable job and I like the security," said Childress as to why he has worked at one job for so long. "I like the people I work with. A lot of these people here are like my family."
Away from work, Childress has a family of his own. He and his wife, Sandy, recently celebrated their 25th wedding anniversary. The couple has two children, Cara, 24, and Josh, 21, who both live on the west side of the state.
Childress is a native of the Yakima Valley. He was born in Yakima and raised in the Outlook/Sunnyside area. Childress attended Outlook Elementary School until the sixth grade before attending Sunnyside Junior High School and then the senior high school through his sophomore year. Childress and his family moved to Naches his junior year, when an experience occurred that would change his life.
While registering for junior year at Naches High School, Childress ran into then Principal Leigh Steele.
"He introduced himself," said Childress. "And asked if I would like a summer job."
The summer job was through a program with the United States Forest Service. Childress took the opportunity and the next thing he knew he was working for the forestry engineering department.
"I got a job dropped in my lap," said Childress. "It was like living the American dream. The guys trained me in every aspect (of engineering)."
That experience wetted the appetite of Childress for the engineering field.
Childress graduated from Naches High School in 1976, where he excelled in sports.
Childress said some of the memories he has from attending school in Sunnyside was going to class on a different schedule because he cut asparagus. In Naches, the environment was a bit different, as most of the residents were orchardists. Childress said the Naches School District used to close school for a couple of weeks because most of the students worked in the orchards.
Childress said he finds the engineering field very interesting, enjoying the math and crictical thinking portions of the job. Childress said some of the favorite people he enjoys being around are other engineers.
"They are people who are interesting to me," said Childress.
One part of his job many people may not realize is that Childress is a certified accident reconstruction expert. Childress is in attendance at many fatality accidents and documents the scenes for Benton County. Childress works hand-in-hand with the Washington State Patrol.
"That is probably the toughest part of my job," said Childress, who had to attend the Northwest University Police Academy in Chicago for the training.
Childress has been responding to all of the Benton County vehicle fatalies for the last 20 years.
Another thing many may not know about Childress is that he is an avid poker player. He is a regular on the area poker tournament circuit.
Childress said he watched poker tournaments on television and it looked like a lot of fun, so he decided to give playing a try. The largest tournament Childress has played at was in Pendleton, where he played over several days.
"I like the social aspect," said Childress. "I go in and everyone knows me. I like that."
Childress has been involved with city government for nearly 14 years, having served on the Grandview Planning Commission before taking a role on the Council about 11 years ago.
"I am kind of a lifelong bureaucrat," said Childress, citing his lifelong involvement with government because of his job. "I understand the importance of getting involved."
Childress has adapted well to the role of mayor. He said one of his favorite meetings is the monthly mayors meeting, where he has an opportunity to talk with other mayors in the Valley about what is happening in Grandview.
"I love bragging about Grandview," said Childress. "I tend to be Grandview's biggestest cheerleader. We have so much going on."