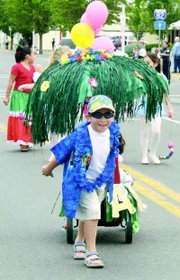 Some were dressed in costumes, other rode their bikes as part of the Kiwanis Kids Day Parade held this past Saturday in downtown Sunnyside.
More than 100 Lower Valley youngsters lined up at Doolittle Park to be part of the parade, which has been a Lower Valley tradition for numerous years.
The parade included 80 entries, ranging from clowns and fantasy characters to youngsters from local daycare centers dressed in cowgirl gear and vivid traditional Mexican dresses.
The entries were judged in six different categories. In the girl's bicycle/tricycle category 4-year-old Janessa Frank received a first place ribbon. Frank was wearing a princess costume as she rode through the parade. Second place honors were awarded to Catrina Kellerman, third to Cheyenne Robertson and fourth to Vanessa Dorsey.
In the boys bicycle/tricycle category Andrew Diddens, who was dressed in a Spiderman costume and wore a helmet decorated with American flag streamers, received first place honors. Second place was awarded to Justin Faber, Ross Faber and Luke Wagenaar, third place to Alex Hernandez and fourth place to Christopher Woodworth.
Dressed in a Japanese kimono, Shania Valencia shared first place honors in the ethnic costume category with a group dressed as Polynesians, which was made up of Anthony Sanchez, Arianna Sanchez and Natalee Morrow. Second place honors were awarded to Jasmine Valencia.
In the clowns and fantasy characters category, Amaya Uribe and Isaac Dean shared first place honors, Trajen Frank received second place and Leah Diddens and Jacquie Kranz shared third place honors.
A group of youngsters dressed as Disney characters placed first in the groups and floats category. Second place honors were awarded to Alvarez Child Care Center and Panda Bear Child Care and Learning Center received third place.
In the battery operated electric mini car category, Reese Campbell, who was pulling a wagon with Anikka and Natalie Campbell riding in it behind his motorized bike, received first place honors. The name of the entry was Rumble in the Jungle.
At the conclusion of the parade, which ended at Centennial Square, a drawing was held to give away two bicycles to two of the participants in the parade. Five-year-old Skylar Gray and 8-year-old Maribel Lopez were awarded the bicycles.