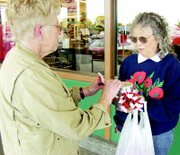 GRANGER - Gathering together on a Friday night, more than 30 Granger residents came to learn about the signs for methamphetamine and gangs in their neighborhoods.
Suzi Carpino and Itza Reyes of the Readiness to Learn Program, which is a program sponsored by the Yakima Valley Farm Workers Clinic, presented information on methamphetamine and how it affects the community. Sunnyside's Harrison Middle School Assistant Principal Doug Rogers spoke on gang awareness.
Rogers, who made a similar presentation to parents of the Sunnyside School District last month, said that it is important for parents to be aware of possible gang affiliations their children may have.
He said occasionally there will be parents who encourage their children to be involved in gangs, but most often parents don't realize the signs.
"They don't realize when their child is asking for a certain type of clothes or demonstrate a certain kind of behavior that's gang related," said Rogers.
He quickly pointed out that just because a child shows some of the signs they may not necessarily be involved in a gang and those involved may not show signs.
"For example," he said, "if a child has a shirt on that is advertising beer it doesn't mean they're drinking, but when they're showing signs they're showing some interest level."
Rogers said that there has been a direct correlation between drugs and crime and gangs.
"From a school standpoint, I have a lot of protection with laws and school board policy that allows me to remove a student with gang involvement," said Rogers. "But that's not the answer because the next day they're not in school and they're out stealing stereos."
In the Lower Valley, Rogers said there are two main gangs, which started as prison gangs in California.
The most prevalent in the Valley are offshoots of the Mexican Mafia, which is signified by number or Roman numeral 13. They are also associated with the color red.
Those associated with Nuestra Familia will tag with the number 14 or the Roman numeral signifying that number. Their color of association is blue.
The two gangs are rivals.
To help curb gang activity in the school, Rogers said they don't allow hats in the schools. Hats often advertise gang affiliations.
Nylon web belts and wide shoe laces also can show gang affiliations. Currently, the Sunnyside School District bans blue and red belts and only allows black or white ones, but that is going to change soon, only allowing leather belts.
Belt buckles with the Old English letter "B" are often worn because it appears to be a 13. Rogers said it can also stand for "Baby," which indicates a new member.
Other belt buckles gang members wear include ones with an 8-ball on them, which is drug related, marijuana leaves, and the word Sur, which stands for Surenos, a gang associated with the Mexican Mafia.
"Know what your kids are wearing, doing and drawing," said Rogers.
He said that kids involved in gangs are also involved in criminal and drug activity.
"When I first came to Sunnyside I was concerned about the amount of marijuana use that was occurring. My concern is greater now," said Rogers. "We have kids who are using methamphetamine."
In the 1990s he said gangs controlled the drugs, but now drugs are controlling the gangs, adding that they are far more violent than before.
"We've had some fourth graders in possession of marijuana and we've had seventh and eighth graders testing positive for meth," said Rogers.
Carpino and Reyes elaborated on what exactly makes up methamphetamine.
Also known as crank, crystal, speed, ice, and a variety of other names, it was once a drug that motorcycle bike gangs commonly used. It received the name "crank" because it was transported in the crank cases of motorcycles.
Carpino said that depending on how methamphetamine is manufactured it can be in powder or rock form and can be taken orally, snorted, smoked or injected.
A central nervous system drug, Reyes said that it is cheaper than cocaine, easier to produce and is a highly addictive psychoactive drug.
"Most commonly people get addicted within six months," said Reyes.
With a long cycle of use, the drug will make users feel pleasure within the first five to 30 minutes of taking the drug.
After four to 16 hours they will become argumentative. After 3 to 15 days paranoia sets in, which can also occur along with tweaking and irritability, which comes four to 24 days after use. The cycle is completed with one to three days of sleeping, said Reyes.
She added that a sign of withdrawal is depression and confusion.
Common signs of a meth user, said Reyes, are rotting teeth, rapid aging, paranoia, violent behaviors and sores all over their body. She said the sores are from excessive scratching because of a feeling that bugs are crawling on their skin.
She said that 89 percent of those using methamphetamine are white and 55 percent are between ages 12 and 30 years old. About 53 percent of users are women and 84.6 percent have an education lower than middle school.
Currently, about 80 percent of the methamphetamine coming into the Valley is from the Spokane area.
"People are bringing it here," said Reyna, who is a chemical dependency specialist in the Sunnyside School District.
But methamphetamine is also being make in Yakima County.
"There are people learning how to cook meth and they are sharing recipes," she said.
In 2004, 28 meth labs were found in Yakima County, but she believes there are many more that were lot located.
Carpino said the most common crimes associated with meth users is identity and mail theft.
Some of the signs of a methamphetamine lab are chemical odors, unfriendly neighbors, extensive security, an accumulation of garbage, evidence of chemical dumping and abandoned projects, said Reyes. She added that with faster methods of making the drug, cooks are also coming up with ways to make it smell less, so the cat urine smell once identified at meth labs may not be prevalent at labs found today.
Also a sign is an accumulation of products used to make the drug, which include drain cleaner, Sudafed, matchbooks and iodine. Reyes added that when being made, the concoction is highly explosive.
"All these things we can purchase in a grocery or hardware store," said Carpino.
Reyes and Carpino urged residents to be aware of neighbors and those living near them. If they suspect anything call the police, she advised.
Reyes said it is common for homes where methamphetamine is cooked to have children living in them. She added that they also commonly have guns in the home, which children have access to.
Granger Police Officer Michael Campos wrapped up the meeting by encouraging parents to become involved.
"Anything that looks out of the ordinary or suspicious, feel free to call for further investigation," said Campos.
He suggested that people not approach a suspected methamphetamine house.
"Once you've been contaminated anything you're wearing you take home with you," he said. "Kids could be contaminated at a neighbor's house," he added.
The best prevention is knowing neighbors, what they do and where they work, Campos said.