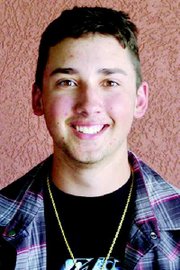 SPOKANE - Taking few chances, just happy with pars, Sunnyside High School senior Kevin Lick earned a fourth straight trip to the 3A State golf tournament at yesterday's District competition.
Staged at The Creek at Qualchan in Spokane, Monday's District tourney featured the seven Mid-Valley League schools and the five from the Greater Spokane League. Of the 14 District berths to State, which include two alternates' spots, the Mid-Valley League earned 12 of them.
Lick, carding a 4-over-par 76, was the fifth low scorer yesterday. He will be joined at State by teammate Andrew Schutt, who earned the second alternate's spot based on his 8-over-par 80.
The four-time State qualifier toured the front side at Qualchan with a 3-over 39. Lick sliced his back nine score to a 1-over 37.
"Kevin played a little tentatively yesterday," said Sunnyside Coach Glenn Braman. "He was basically playing for pars. He knew the number he needed to get to State."
Lick ended up snaring 15 pars on the Spokane course by simply playing safe golf. He never recorded a birdie because of it, but his reward was avoiding any major blow-ups.
His lone hiccup came on the par-4 second hole, where he absorbed a double-bogey. Lick sent his tee shot to the right and his ball found what can best be described as crappy rough. Without a sight line to the green, Lick sent his second shot back towards the fairway. His ball traveled through the fairway, though, setting up an awkward approach to the green. His wedge flew the green, which left him with a short chip. Once on the dance floor, he two-putted for the double.
Of the two bogeys Lick took yesterday, the first came on No. 6. The bogey was set up when he sent his tee shot into a right side fairway bunker. His second bogey, coming on the back side, could have been avoided had he not lipped out an 11-foot par putt.
"It was a pretty solid round for Kevin," said Braman. "He knew what he had to do to get to State, and he went out and did it."
Monday's District medalist was the West Valley Rams' Bobby Elder, who tied Ellensburg's Adam Aldredge with an even-par 72. Elder beat Aldredge in a sudden death play-off.
The Rams, who'll be sending four golfers to the State tourney, won the District team title with a tournament low 307 strokes. Clarkston, behind Joel Dahmen's 1-over 73, earned runner-up honors with a 320. Hanford, with two golfers headed to State, placed third with a 323. Sunnyside was three strokes back, with a 326, for fourth place honors.
Schutt, in earning the second alternate's spot to State, missed out on a five-way playoff for the final three berths to State by a single stroke with his 80. He got around the front side with a 3-over-par 39, but his back nine score ballooned to a 41. His troubles after the turn came on the first four holes, where he opened with a double-bogey and then settled for three straight bogies.
"That kind of did him in," said Braman.
Braman was quick to add that if Schutt couldn't earn one of the 12 guaranteed spots to State, there is nobody more deserving of an alternate's spot than Schutt.
"He's one of the classiest kids I've ever been around," Braman said. "When I woke up this morning and checked out my e-mail and saw that Andrew was listed as an alternate, there was no one more pleased than myself."
Shooting more than respectable scores of 84 and 86 at yesterday's District tourney were Sunnyside freshman Justin Bos and junior Zack Hathaway.
Bos, in turning in the third low score for the Grizzlies, hit the turn with a 5-over-par 41. His 7-over 43 on the back nine needed to be five strokes lower to get him to State.
Braman said the freshman Bos will be heard from again.
"Justin has a tremendous passion for the game," said Braman. "He wants to play so bad, all the time. His work ethic is unbelievable.
"He's going to be a good one," Braman added.
In carding an 86, the junior Hathaway displayed that he's taken his game to the next level. Braman said last season Hathaway was typically in the 90s, but this season has twice been as low as 81. Braman said if Hathaway continues to improve, qualifying for State next season is within his grasp.
Sunnyside freshman Tim Taylor also competed at District yesterday, and represented the Grizzlies well by shooting an 89. Senior Jeramie Drollinger rounded out the Sunnyside team scoring with a 102.
This year's 3A State tourney is scheduled for next Wednesday and Thursday. It will be held at the same venue as this year's District tournament.
.