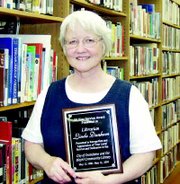 Linda Dunham has crossed many milestones as Grandview's librarian.
She has doubled the number of books and periodicals the library has on its shelves. The automation of the library system, which was one of the first in the county, was under her supervision and she even met her husband over the circulation desk.
"He was a pill at the beginning," she said. "We had to pass a policy that if customers wanted books from interlibrary loan they would have to pay the postage themselves.
"He was notorious for wanting books we didn't have and it was costing us too much money," she laughed.
Now the couple is happily married.
Dunham, who was recently recognized by the Grandview City Council for 25 years of service to the city, has big dreams for the small community library.
"What's achievable and what I want are two different things," she said.
"We need to add on some more square footage. It pains me to discard old books, but you just can't sit on your old collection. We either need to discard or we'll bust at the seams."
The library has already moved 1,000 large-print books to the Grandview Senior Center as part of a branch library service.
The senior center library is open three days a week and is operated by the Friends of the Library group in Grandview.
Moving the books to the senior center allowed for more shelf space at the main library.
With a growing carpet fund, Dunham hopes to be able to replace the carpet in her building.
"This carpet has been here for 30 years," she said. "Some carpet in other buildings has been replaced a couple of times in the past 30 years."
She has also seen an expansion into the number of DVDs and CDs the library carries.
Times have changed since Dunham was 16-years-old working in her high school library.
One summer when the head librarian was out of town, she had the opportunity to be in charge of the library.
While in college Dunham worked for the University of Missouri library.
"I made 87 cents an hour. I had to give that job up. I just couldn't live on that. I had to get a different job baby-sitting and cleaning houses," she said.
Dunham received her Master's in library science from Rutgers University in New Jersey and worked in a pharmaceutical library in New Jersey.
For someone who attended college in New Jersey, her accent can throw people off.
"People always ask me where I grew up," she said. "I was born in Texas, grew up in Arkansas and went to high school and college in Missouri," she said. "I keep moving north. The further north I move the more I like it."
Her move to the Lower Valley came with her first husband, who was employed by the Washington State University experiment station in Prosser.
"I had actually applied for this job once before in 1977 before we moved here," she said.
The mother of small children at the time, when she heard the job included every weekend and most evenings, she withdrew her application.
Working part-time for the Prosser-Record Bulletin as a reporter and photographer, the librarian position came open again in 1980, so she decided to apply for the job.
"I didn't get any evenings off except for my birthday or some extraordinary event because I was the only full-time employee," said Dunham.
Since her start at the library she has been able to take some evenings and weekends off.
With the growth of the city and the library, Dunham's staff has also grown to a handful, who keep operations running smoothly.
Also helping the library is the formation of the Friends of the Library group, which was formed in the past five years.
Dunham pointed out that a gift of four computers from the Bill and Melinda Gates Foundation, as well as memorial donations, have been instrumental in expanding the services provided by the library.
"One woman alone gave us $10,000," said Dunham. "These have been very tough times for the library all over the United States. Almost half of our material comes from donations."
"One of the advantages to a small town is we're very responsive to what people want to read," she said. "We give them what they ask for and we anticipate what they want.
"It's so much fun to call somebody up and say I think we have a book you will like," said Dunham.
It's that personal service that many in Grandview like, and many more are worried that Dunham may begin thinking about retirement someday soon.
"The mayor told me I have to stay for another 25 years," she laughed, adding that she doesn't think she'll make it that long.
Dunham's goal? To equal or exceed the 27-year record held by former librarian Ethel Richey.
"They don't have to worry," she added. "I'll give them a couple years notice."