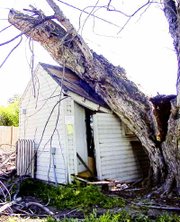 Esther Cabrera had just reached her job at Sunnyside Food Pavilion Sunday evening when she received a call that a large oak tree in her back yard had split. A large arm of the tree smashed into a shed her son spends much of his time in, which is across the yard from the main house, located at 909 Franklin Avenue in Sunnyside.
Late Monday afternoon the heavy branch of the tree was still on the building, which has been posted by Sunnyside Property Maintenance Facilitator Bill Eikenbary so no one will enter the structure.
Cabrera said she noticed last week that some of the branches stemming off one of the main trunks of the tree were resting on the power lines.
"This week, I was going to call Pacific Power to have them call the landlord and take care of the tree," said Cabrera. "I didn't think it was safe."
When the tree came down late Sunday afternoon, it not only struck the shed, it took out power lines, leaving nearby neighbors without power until almost midnight.
Taking only what she had with her at work, Cabrera and her family had to evacuate the main house for fear of a gas leak.
"We were told we couldn't be in the house because there might be a gas leak," she said.
"I didn't know what to do with my cat," she said. "I had to leave it locked on the front porch."
Pacific Power and Light employees worked for several hours clearing branches and debris, attempting to lighten the load on the shed while protecting other property owners from the tree's branches. Also on scene were Sunnyside fire department and police officers.
Living in the house since last October, the tree has been a concern of Cabrera's for several months, especially as high winds have swept through the Lower Valley.
Eikenbary said the shed will have to be taken down and the tree cleared from the yard.
"The tree did a pretty good job damaging the integrity of the building," he said.
It is now up to the property owner, Rick Perez, to continue the process of taking down the tree.
.