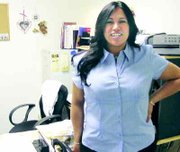 As a teen Elva Mendoza worked evenings and weekends at Walnut Grove Nursing Home.
A member of a nursing class offered at Grandview High School, she learned basic nursing techniques, while seeking the area of medicine that best fit her.
"I wasn't sure if I wanted to do nursing. I wasn't sure what I wanted to do," she said. "I'm a very compassionate and caring person when it comes to the elderly or anyone for that matter."
After nine years with the Washington State Migrant Council working in the health related division, Mendoza has found her niche as office manager for Spavinaw Dental Clinic in Sunnyside. She actually acts as office manager for both of Dr. Gregory Norell's dental clinics, which are next door to each other in the Marquez building on East Edison Avenue.
"I was volunteering for KidsScreen in Grandview at the Washington State Migrant Council Alice Grant Learning Center when I met Dr. Norell," said Mendoza.
Teamed up to help children, the two struck up a friendship that developed into a job for Mendoza.
"He just liked the way I worked and asked me if I would be the office manager at the new office he was starting," she said.
She has been with the dental office for the past five years.
Taking a more administrative role, Mendoza said she has found the aspect of medical field that best suits her.
"I've always felt I could do more on the management and administration level because I think of myself as a leader," said Mendoza.
She admits leaving her position with the Migrant Council was a difficult decision to make.
"I took the leap and now I'm here and I love it," she said.
As the office manager, Mendoza works to ensure everything runs smoothly.
She is in charge of accounts, billing and coordinating outreach work, to name a few of her jobs.
"I've learned a lot, but most of it came naturally to me," she said.
Besides her work in the office, which specializes in children's dentistry, she sets up mobile clinics in communities so the dentist can perform dental work for Head Start students.
Mendoza often assists her boss as he travels to Yakima schools and other communities, such as Mattawa, Basin City and Eltopia to perform dental services.
"We go to a lot of little places that don't have the resources," she said.
The mother of two said she didn't realize the importance of dental care until she started working in the field.
After about a month as the office manager for Spavinaw Dental, she began seeing pictures and dental cases coming through the door, which helped her realize how important good dental care is.
"Seeing cases helps you educate families better because you know both sides," said Mendoza. "I get to talk to families and help Dr. Norell consult them."
Mendoza enjoys her work so much she can't imagine doing anything else.
"I enjoy the atmosphere and the staff. Everyone gets along like a big family and we work together as a team," she added.