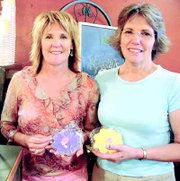 PROSSER - When asked with a wink, if her popular cut-out cookie recipe is low-fat and low-carb, Glenna Dragoo rolled her eyes toward the ceiling of the Sixth Street Cafe in downtown Prosser and drummed her fingers on the table. Her answer is an uneasy, "sure."
The buttery creations of Dragoo and her business partner Chris Flodin are anything but low-fat or low-carb, but the one thing they have on their side is a delightful, flavorful cookie that is great with a cup of coffee.
"If you walk two miles you might get rid of half that cookie," Flodin teased. "But if you're going to have dessert, why not eat dessert."
Taste of Heaven, the name of the Prosser based cookie company, was founded by Dragoo and her former business partner.
In October, after her first business partner moved out of the area, Dragoo enlisted the help and partnership of long-time friend, Flodin, to further their business.
In the past few months business has picked up for the small operation, which has a distributor that takes their cookies to coffee shops, flower and gift shops and espresso stands in Wenatchee, Ellensburg, Tri-Cities and parts of Oregon. The cookies are also available locally at the Daily Buzz in Sunnyside, and Sixth Street Cafe and Sister to Sister in Prosser, to name a couple of the businesses selling their cookies.
With business budding, Dragoo and Flodin are building their own commercial kitchen so they won't have to use the kitchens of local churches and wineries to bake their wares. Their hope is to one day break into markets in Seattle and Portland.
It's Dragoo's family cookie recipe that they follow to make the goodies.
"I like a good cookie," said the exercise teacher. "I, myself, like a big cookie."
With those two ideas behind her business, Dragoo and Flodin have created a large and tasty cookie.
Tasting some of the other cookies out on the market, Dragoo didn't know if it was possible to create a flavorful cooking with cream cheese frosting that could be sold by retailers.
"I didn't think I could do that with a yummy cream cheese frosting," she said. "You have to have the frosting. It's what makes the cookie."
Without preservatives, the cookies that Dragoo and Flodin make don't have a shelf life of four or five months, but they will last for several weeks and can be frozen.
"They freeze really well," said Flodin.
The recipe for the thick, fluffy cookies is one that Dragoo remembers making at her aunt's house.
"It was a recipe my mom used during the holidays," said Dragoo.
"We'd spend a couple of days making cookies and spread dozens and dozens of cookies all over the house while the frosting was drying," said Dragoo.
It was then her passion for cookies developed.
"I've always wanted to bake cookies," said Dragoo. "I needed a strong, hard-working partner to make it happen."
Flodin agreed, adding that without both of them the cookie business wouldn't be as successful as it has become.
"She's always been a cookie person," said Flodin, who has known Dragoo for the past 30 years. "Knowing her as long as I have, she's always had a heart to do this."
As a former restaurateur, Flodin never really focused on cookies before, but put her efforts into baking pies and cakes.
"Cookies weren't as high of priority," she said.
With the convenience of grabbing a cookie and going on her way, Flodin said now she is a cookie person and her family is benefiting from it.
"They get the cookies that don't make the cut," she said.
But everyone has their own idea on what is a perfectly baked cookie.
Dragoo likes the lighter colored cookies full of lemon flavor, while Flodin enjoys the slightly stronger butter flavor of a darker cookie. Although most of the cookies they bake are on the lighter side, occasionally there will be someone who wants a darker cookie.
With orders shipped out each week, the two bake the cookies on Tuesdays to have them shipped out by Thursdays. After a day of baking, the cookies are allowed to rest before they are frosted, which also has a resting time. The cookies are then bagged and sealed and ready for market.
"These cookies take time. They're not a real simple cookie," said Flodin.
During most of the year, the Taste of Heaven cookies are shaped like flowers, but Dragoo and Flodin also make cookies for the seasons.
"At Christmas we had a tree, but we probably won't have that one this year," said Flodin.
Easter was a time for bunnies, eggs and carrot shaped cookies. The two are already in the planning stages for a Fourth of July cookie.
They also change the frosting colors to match the seasons. In the fall, cookies may be frosted in oranges and browns and bright pastels pop up for the spring.
But it is their multi-petaled flower that is commonly found.
"The flower brings back so many memories," said Dragoo.
Taste of Heaven also makes cookies on sticks, which are sold to flower shops for those who want to put a cookie in a floral display.
"People also like to put them in baskets," said Flodin.
For the most part Flodin and Dragoo do most of the work in baking and frosting their cookies, but occasionally they enlist help, when the demand increases. The two usually make about 50 dozen cookies a week, but that increased to about 120 dozen a week during the holidays. They'd like to double their production.
Besides baking more cookies, the two would like to expand their flavor selection.
They are currently testing a few additional recipes, which are being sold at the Sixth Street Cafe in Prosser, but they hope to open the products up to other retailers this summer. Some of the other cookies they make are mocha chocolate chip, cinnamon oatmeal raisin, snickerdoodle and chocolate chip.
The two love seeing their cookies in people's hands and over-hearing the feedback from people who don't know the cookie baker is behind them in the coffee line as they buy their treat.
"We've people who love them and they're promoting them," she said. "It's really exciting."