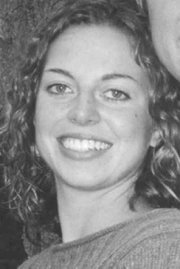 Ruth Dekker had a unique opportunity this past weekend that not many 21-year-olds can claim.
Dekker, a 2001 graduate of Sunnyside Christian High School, met face-to-face President George W. Bush this past Saturday. Bush was the keynote speaker at the graduation festivities at Calvin College in Grand Rapids, Mich.
Dekker was the lone representative from her graduating class to personally meet the president. Dekker graduated from Calvin College this past weekend with a degree in nursing.
While meeting the most powerful man in the country was quite an honor, it is the story of how Dekker earned the honor of meeting the president that is noteworthy.
Dekker's mother, Ellen, explained that her daughter was nominated by the college to receive the President's Service Award, a recognition given through Bush's USA Freedom Corps volunteer program.
Giving of her time is something that Dekker has sure done enough of over the last few years.
A couple of years ago, Dekker spent the summer in Nigeria helping operate a health clinic and offering such activities as vacation Bible school to local youngsters. Among her other activities back in Grand Rapids, Dekker organized a weekly gym night program at the Roosevelt Park Community Christian Reformed Church. Dekker's efforts exposed youngsters to Bible studies while allowing them to enjoy athletic activities, such as basketball.
The road to meeting the President happened rather quickly. Dekker found out just last Thursday that she would be receiving the President's Service Award and meeting with Bush.
"She was excited," said Ellen.
Dekker greeted the President when Air Force One landed at Gerald R. Ford International Airport on Saturday.
The President shook hands with Dekker and the two talked for about 30 seconds, said her mother. Her daughter also had the opportunity of riding in the presidential motorcade on the way to the college.
"His last words to her were, God bless you," said Mrs. Dekker. "She said (later) it kind of felt like I was watching all this on television."
Mrs. Dekker said she and her husband, John, have always been proud of their daughter.
"This is just icing on the cake," said her mother. "It was really an honor for her."