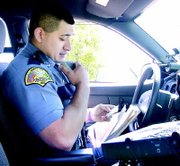 It doesn't take long, only a few short hours, to write up a pile of tickets for failure to wear a seatbelt.
In a 3-1/2 hour time slot an officer can easily write up 12 or 15 tickets, fining each offender $101 for the infraction.
When Sunnyside police officers are on the road during any normal work shift they watch casually for those not wearing a seatbelt, but during a "Click it or Ticket" emphasis the officers working overtime spend hours concentrating on those not wearing a seatbelt.
Even though wearing seatbelts is the law in the state of Washington, it is not difficult to find violators, as Sunnyside Police Officer Jaime Prieto demonstrated Wednesday afternoon.
Prieto, a two-year veteran of the Sunnyside Police Department, had back-to-back stops along Lincoln Avenue as he patrolled for seatbelt violators.
Ending one traffic stop, he flipped U-turns on Lincoln Avenue and hit the lights, pulling over car after car, ticketing most of the offenders.
"I didn't have to go far for that one," Prieto commented.
Since May 15, the Sunnyside Police Department has participated in a statewide "Click it or Ticket" seatbelt emphasis sponsored by the Washington State Traffic Safety Commission. The emphasis will continue through June 9.
Currently, Washington state has an 80 percent use of seatbelt rate, which the traffic commission wants to raise.
Sunnyside traffic officer Shane Mortensen has been scheduling off-duty officers to enforce seatbelt laws. He explained that officers are scheduled for a specific day and that they are allowed to choose which hours they work.
"It is in the daylight hours when seatbelts are easily visible that they are emphasizing seatbelts," said Mortensen. "It could be any time of the day."
He said extra officers are on the streets about every other day emphasizing seatbelt laws. He said the city received a $2,500 grant from the Washington State Traffic Safety Commission, which pays the officers' overtime hours.
Besides seatbelt laws, Mortensen said officers have been looking for other infractions, including driving without insurance, which is a $538 ticket, or driving with expired tabs, an offense that brings with it nearly a $200 ticket.
"No seatbelt is the primary reason to stop whether it's for an adult, child, passenger or driver," said Mortensen.
After more than a week of emphasizing seatbelt use, Prieto is still amazed at how many people do not wear their seatbelts.
He said he is not only looking for those not wearing seatbelts, but for those improperly wearing the safety devices.
He explained that those who tuck the shoulder harness behind their back or under their arm are not wearing the seatbelt properly, which is a ticketable offense. Prieto added that only wearing the lap belt in vehicles with automatic seatbelts is also not suitable.
"People give me excuses," he said.
Just yesterday, he was given the excuse by a commercial van driver that none of the vendors wear their seatbelts because they are in and out of their vehicles all day.
With each traffic stop, Prieto points out several drivers passing by gawking, who are also not wearing their seatbelt.
"When you're parked and are writing out someone a ticket you'll see a few, but they'll disappear," he said.
He also notices as people quickly attempt to put their seatbelts on as soon as they see his patrol car.
"Sometimes I don't catch it, but I see them as they try to quickly put it on," he said.
As part of the emphasis, officers are required to make at least three contacts per hour, but they are not required to write a ticket for every offense. He said the tickets are up to the discretion of the officer.
One ticket he always writes though, is to those motorists driving without insurance.
"A lot of people here in town don't have insurance," he said.
Prieto said being part of an emphasis is a good way to enforce traffic laws.
"When you're on (regular) duty and doing traffic, you have to listen to the other calls the guys are going on and respond to calls," he said.
Although his service radio was full of chatter, he wasn't required to respond to any of the calls yesterday, focusing only on the seatbelt emphasis.
The emphasis will be through June 9.
Mortensen added that the Sunnyside Police Department will be doubling up, scheduling two off-duty officers during the Memorial Day weekend.