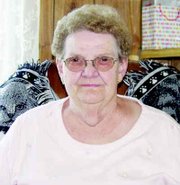 Filling the shoes of former Sunnyside Recreation Commissioner Ellen Bird is a big task. But, Patsy Maynard knows right off the bat she is no Ellen Bird. But that isn't going to stop the feisty 71-year-old from making her point as the new senior citizen representative on the Sunnyside Recreation Commission.
Maynard was appointed by Mayor Ed Prilucik earlier this month, with the confirmation of Council, to assume the vacant position left by the death of Bird.
These days, Maynard keeps busy with a variety of activities, including playing cards and going to potlucks.
"It is mainly senior citizen stuff," said Maynard.
Maynard has one unique activity that she still does with certain members of her class that graduated in Sunnyside in 1951.
"There are about 10 or 12 of us who still go to lunch every month," said Maynard.
The group of classmates have been meeting on a monthly basis for about the last 16 years.
"It is fun," said Maynard.
Maynard first came across the idea of joining the recreation commission when the idea was brought up at a meeting of the senior citizens at the local senior center.
"Nobody volunteered," said Maynard. "I told them I would do it, but I am not Ellen Bird. I am filling some pretty big shoes."
Maynard met with the mayor a couple of months ago to talk about the position and was recently confirmed at a Council meeting.
Maynard missed the last meeting of the recreation commissioners for health reasons, but she isn't shy about sharing her thoughts on what needs to be done.
Maynard said she would like to see the recreation commission address the closure of the community center on Fridays.
"I don't like this deal of being closed on Fridays," said Maynard. "They have quite a facility out there (at South Hill Park) and they should be able to use it every day."
She also doesn't care for the city closing the pool two weeks early this year due to repairs. Maynard also wants to see the commissioners address changing the fee structure for recreational activities. Maynard doesn't feel out-of-town residents who live within the boundaries of the Sunnyside School District should have to pay more than city residents. Maynard said the increased fees should only be more for people who live outside of the school district boundaries.
"If your tax dollars are going to Sunnyside schools you shouldn't be paying more," said Maynard.
Maynard said she also wants to ensure that the annual senior citizens casino night is a success this year.
Maynard said she plans to continue to be an advocate for senior citizen activities in the community.
"I have already told the seniors they need to give me some ideas," said Maynard.