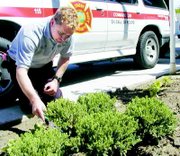 What started off as a parking problem has since grown into a colorful garden. Walking past the front of the Sunnyside Fire department it's not the new cement slab that most people notice, instead it's the lush green bushes and the colorful flowers that are pushing up out of the ground.
Sunnyside Fire Chief Aaron Markham said last year the city decided to take a pro-active position when it came to providing safer parking for its firefighters. He said before the recent garden/parking project, firefighters were forced to either park in the public lot at the corner of South Eighth Street and East Edison Avenue or in several parking spaces located along the south side of the fire department.
Markham explained that the spaces located along the south side of the building were not well lit and the fire department was having some issues with vandalism.
Instead of continuing to park vehicles along the building's south side, Markham said the department decided to take the steps necessary to create new, well lit parking spaces.
The answer came in the form of pulling out what was an old, over grown planting area. Markham said the planting area had old roses and overgrown evergreens, as well as a path that was made up of dilapidated stones.
Last year, the old planting area was torn out and a cement slab was poured, which now serves as a parking area for firefighters. The area is well lit and sits directly in front of the fire station.
But pouring the cement slab wasn't the end of the project. Instead, the fire department found a way to integrate the parking spaces with a new, U-shaped garden area.
Markham said the department had some help in creating a landscape plan and just after this past Mother's Day they went out and purchased the plants necessary to fill in the garden space.
All of the on-duty staff took part in putting the new garden area together. Markham said all of the planting was done by the on-duty staff at the fire department. He added that it's the staff who regularly gets out and waters the flowers, shrubs and ornamental grasses.
He added that they are still waiting for the soil to settle in around the new plants before they add bark mulch and an in-ground watering system to complete the garden area.
Markham noted that the garden area and new parking spaces were included in this year's city budget.