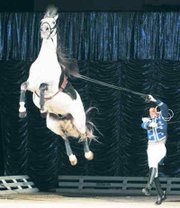 YAKIMA - A chance to see the newest choreography of the world-famous Lipizzaner Stallions will be available to Yakima Valley residents.
The finely trained, rare breed of horses will perform leaps and ballet moves with precision and ease as part of the show, scheduled for Sunday, June 12, at 2 and 6 p.m. The performances will be held in the Yakima Sundome.
The Lipizzans, a breed which was saved by the 42nd Squadron of the United States Army's 2nd Cavalry during World War II, are celebrating 35 years of performing this year. Over the years, more than 23 million people throughout North and South America, Europe and Australia have witnessed the acclaimed show.
To celebrate their 35th anniversary, the stallions will be performing new routines, which have an emphasis on the historical background and foundation of the Lipizzaner breed.
Over the breed's 400-year history, the horses have been used as a horse of war, to one of nobility and aristocracy and now they are a form of living equestrian art.
A long-lived horse, with a life-span of 30 to 35 years, the colts of the Lipizzaner Stallions were usually born black and slowly change to pure white over a period of six to 10 years. On rare occasion, the stallions are born white.
Emulating the Spanish Riding School of Vienna, Austria, the presentation by the magnificent animals maintains a traditional feel similar to that seen of the famous riding school.
Performances of the Lipizzaners include "Airs Above the Ground," a show of leaps and maneuvers, once used by riders in saddle to protect and defend themselves on the battlefield.
The current tour features 12 to 14 stallions performing selected maneuvers. Included in the performance is Pas de Deux, an exercise by two Lipizzaner stallions in mirror.
Classical training is also part of the performance, which exhibits the steps and movements of schooled horses trained in the principles of haute d'ecole. The performance includes ground and above the ground training, training in hand and on the long rein and saddle.
Also part of the show is The Grande Quadrille, a ballet of white stallions and their riders, performing intricate figures and movement.
Tickets for the show are $19.50 for adults and $17.50 for children 12 and younger and seniors 60 and older. A limited number of Gold Circle Seats are available for $22.50.
Tickets are available at the Sundome box office and Ticketswest outlets. For more information call (509) 248-7160 ext. 146 or to charge by phone call (800) 325-SEAT or see www. ticketswest.com.