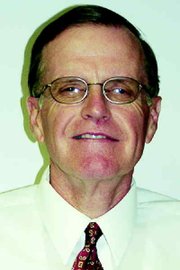 Sunnyside School Board member Bill Smith tendered his resignation at Thursday night's Sunnyside School Board meeting.
Smith, who was not present at the board meeting, presented the school board with a letter of resignation.
But, the school board won't be having to do another community-wide search to replace Smith, yet.
Smith's resignation is effective Oct. 31.
"I need to do this because my wife and I have sold our home and temporarily moved into another director district while we build a home that will take us out of the Sunnyside School District all together," wrote Smith.
Smith further detailed that he will resign his position on Oct. 31 to allow residents living in director district No. 5, which he represents, to apply to run for the position in the September primary election and November general election.
Under state law, explained Sunnyside School District Superintendent Dr. Rick Cole last night, Smith is allowed to retain his seat on the board even though he has moved out of the director district he represents. Smith can only hold the seat until the next election.
Smith went on in his letter to share some of the thoughts he had about the past six years he has been on the board.
"It has been a pleasure to serve you, the patrons and the students of the Sunnyside School District," said Smith.
Smith said he learned early in his tenure that board members have to be committed to do what is best for students.
"As the years have unfolded, when we would have discussions about various subjects, we would remind each other that we are here to do what's best for kids," said Smith. "This made the decision clearer and easier. I feel that we as a school board have done a good job of serving the needs of the students of our district."
Smith went on his letter to commend the staff for all of the hard work they have done in making the learning process easier for students.
"The time and energy they have collectively put forth is a tribute to their commitment as educators," said Smith.
Smith also praised the efforts of Cole and his guidance in the school district.
"I know there are some who haven't agreed with his decisions, but I feel that Rick really has the best interests of the children and the school district at heart," said Smith.
Smith took part of his letter to dedicate some thoughts to an old friend.
"Lastly, I wish to state how much I have missed the late Fred Kilian and his wisdom, experience and expertise since his passing in November," said Smith. "His years of service to the school district stand as a perfect example of service."
Smith ended his resignation with a few simple thoughts.
"Again, I want to thank you all for allowing me the privilege of serving as a member of the Sunnyside School District Board of Directors," said Smith. "It has truly been an honor I will always remember."
Bill Smith
More like this story