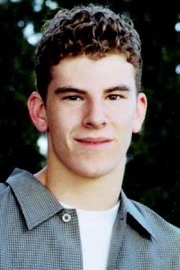 MABTON - This summer, as Mabton High School senior Ryan Harris walks down the aisle at graduation, he will be following in the footsteps of more than 65 relatives who received their diplomas before him.
Ryan, who is the son of Bill and Debbie Harris, is the last in a long line of relatives who have long since called Mabton home. According to his grandmother, Carolyn Harris, Nellie Artz was one of Ryan's first ancestors to graduate from the Mabton school system. She graduated in 1929.
Now, more than 75 years later, Ryan is getting ready to accept his diploma.
"I didn't really know I had all these family members," Ryan said.
Besides being one of a long line of relatives to have graduated from Mabton, Ryan also comes from a long line of relatives who have been honored as either valedictorian or salutatorian. Ryan is the valedictorian of his high school class.
According to Carolyn, six of Ryan's relatives were named class valedictorians and five were named salutatorians. Many of those relatives are still located in the Yakima Valley, with one working as a piano teacher, another working in nursing, one is a teacher, one is a personal trainer, another is a missionary, several are active in business and one is a para-professional. Ryan said after graduation he plans on attending community college, then transferring to a four-year university to study aviation.
Carolyn said the Harris family has been in the Mabton area for years, explaining that they started off as farmers in the glade, an area located on the hill above Mabton. She said over the years the family has grown and many members have moved out of the community to pursue jobs outside of farming.
Ryan said for him education was something that his parents have always stressed.
"My parents were always pressuring me to get good grades, try hard and do the best I can," Ryan said of his educational success.
Overall, Ryan said he finds his family history to be interesting.
"I just think it's pretty cool," he said.
Although Ryan will likely be the last in a long line of Harris ancestors to graduate from Mabton High School at the time being, he has a younger brother who is growing up quickly. Jace Harris was born in May 2004 and could help keep the Harris tradition alive.