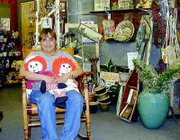 Antiques-mostly furniture-have been added to the gift shop at Lava Rock Nursery and Landscaping. The new inventory is just the first of many plans being put into operation by owner Gary Warwick and his wife, Billie.
"We started adding antiques in February, and everything you see, even the display racks, are for sale," said Billie. "I want to take them all into the house, but I'm good. I don't. I resist temptation."
She said this while eyeing a particularly attractive cabinet that is testing her resistance every day.
"We've also added a whole line of gifts and lots of fountains, and the shop will stay open year-round instead of closing for the winter," she announced.
Major changes will take place this winter on the 10-acre site at 1900 Sunnyside Mabton Road, she said.
"We bought a lot of old buildings from farms, and we're going to make a western town, and we'll put in wooden cutouts of frontier buildings all along in front of the railroad ties (that face I-82) so they'll be seen from the freeway," said Billie.
She said they will put in a wagon train with full size horses, sculpted from horseshoes, to round out their western theme.
Plans also call for expansion of what the Warwicks call Flamingo Hill, which is a combination of a desert oasis and '50s nostalgia in the form of a vintage Cadillac, which perches atop a hill over a waterfall and pond. (You have to see it, to believe it.)
"We're going to build a Tiki hut," said Billie, which will, she thinks, fit in nicely with the camel and palm tree already there.
While the oasis is strictly for fun, the Warwicks will be working this winter on two acres they want to turn into an upscale reception area for weddings, anniversaries or other family-type gatherings.
"That will be completed this winter. We already have two bookings for receptions in mid-Spring," said Billie.
"I just love it out here," she added. "And we're always thinking of something more we can do."