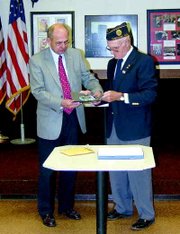 Congressman Doc Hastings was in Sunnyside Monday to accept awards from the American Legion and the Citizens Flag Alliance at the Veterans of Foreign Wars Post No. 3482 building for his work to protect the American flag.
Hastings said the Constitutional Amendment, which would make flag desecration illegal in all cases, is needed because the Supreme Court has ruled on several occasions that burning the flag is protected by the First Amendment.
Hastings cosponsored the proposed amendment.
"The only recourse we have," Hastings told a dozen or so veterans and their families in attendance, "is to amend the Constitution."
Veterans, more so than others, understand how important the issue is.
Walter George, commander of American Legion Post No. 73 in Sunnyside said Hastings' work on the issue has been important and supports it whole-heartedly.
"All vets support it very strongly," he said.
In addition, George said he's known Hastings for almost 40 years. That made the presentation all the more special.
"This is a little on a personal level," George said.
Hastings, however, said he wasn't sure the amendment, which is tied up in the Senate, would pass.
"I'm not that confident, but who knows?" Hastings asked. "Things could change. I just hope the Senate will act on this."
Hastings accepted the honor and took time to answer questions from those in attendance.
Questions focused on health care for veterans and Iraq.
"Our soldiers on the ground know what they're doing is right," Hastings said."Because they can see the positive results."
He mentioned that support for the war in Iraq is still high, despite media reports that say the public, as a whole, has lost interest and confidence in what America is doing.
Hastings also addressed issues of farming and a reduction in programs across the board.
He reassured those who asked questions that things often have a spin that makes them sound worse than they are.
Despite all the question focusing on other issues, veterans like Leonard Travaille of Prosser, who served in the Air Force until 1977, believe the flag amendment is important.
"We shouldn't have to go through all this to save our flag," Travaille said. "It's a lot of nonsense."