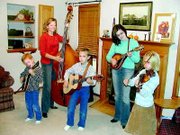 They nearly stole the show as the opening act for the "Always...Patsy Cline" performance on Oct. 22.
Since then, the Top kids and their mom, Wendy - sometimes nicknamed the "Von Top" family singers after the Sound of Music - are stealing hearts in Lower Valley one bluegrass song at a time.
It all started two years ago when Zach, 7, started guitar lessons. "He's been wanting to play guitar since he was able to talk," noted Wendy.
Inspired by the George Strait song, Amarillo by Morning, Zach excelled at the guitar and inspired his siblings to take lessons in other string instruments.
Since then Laken, 16, learned to play the bass and guitar; Madsen, 9, plays the fiddle and the youngest, Joram, 6, does his picking and a grinning on a mandolin.
Even Wendy has taken music lessons in the past year to play bass.
They all seem to have their favorite performers and role models. Madsen, for example, pointed to Allison Krause as an inspiration for her fiddle playing.
But in unison they said their music teacher in the Tri-Cities area, Marie Parks, inspired them to keep learning and playing together.
The Tops, who live near Sunnyside, off of Scoon Road, first played small, private venues such as local grange halls.
But it was an invitation to open for the Patsy Cline show that really introduced them to the community.
"The boys looked from behind the curtain and were excited about all the people in the audience," Wendy said of the Sunnyside High School Auditorium, which seats 750 people.
Zach quickly assumed the role of band leader on stage, using a self-assured drawl to transition between songs and strike up a banter with the audience.
Whether it was Rocky Top or Whisky Before Breakfast, the kids and Wendy sang and played bluegrass favorites in harmony, bringing down the house on more than one occasion.
And that was only the first major public performance for what the family calls Top String.
So where did the kids get that stage presence?
Wendy attributes that to their dad, John, who is a livestock auctioneer. "I think it's in their genes to stand behind a microphone," she laughed.
Top String also owes its growing reputation - the family has since been asked to play at events ranging from corporate Christmas parties to the Senior Center Christmas celebration - to steady practice.
"People ask me how I get all four kids to practice their music every day," Wendy smiled. "The thing is, I have to tell them to stop and do their homework."
Chimed in Joram, "I could play all day!"