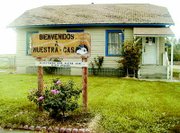 Nuestra Casa, a Spanish-language outreach program in Sunnyside, received a $9,000 grant to aid its programs for 2006. The grant was one of nine, totalling $200,000, announced Tuesday by the Yakima Valley Community Foundation
Sister Mary Rita Rohde, program coordinator for Nuestra Casa, said the funds will be utilized for continuing health education programs such as CPR, diabetes and first aid classes.
The one-year grant provides money for additional classes, providing information on how parents can obtain health care resources for their children.
Nuestra Casa's mission is to educate Spanish speaking, immigrant women to care for themselves and their families. Rohde said Nuestra Casa ("Our House" in Spanish) also serves as a referral service for those in need.
To that end, the Yakima Valley Community Foundation is "blessed to contribute to this effort," noted President John Colgan.
Colgan said the nine grants awarded yesterday were to non-profit programs in Yakima County communities. A total of 68 programs applied for the grant monies.
"Nuestra Casa is a really innovative program for the health of Spanish speaking women and their families," noted Colgan. "So as we help one woman at a time they will, in turn, help others in their families. We thought it (the grant award) was a very wise investment indeed."
Nuestra Casa is an independent, non-profit group, said Rohde, which relies on grants and donations for its funding.
During its existence over the past three years, Rohde continued, Nuestra Casa has become a hub in Sunnyside for serving the Spanish language community.
Other grants awarded Tuesday were to Yakima Neighborhood Health Services, Yakima Valley Community College, Friends of the Buena Library, People for People, Diocese of Yakima Housing Services, Davis High School Media Center, Wapato Community Center and Yakima Valley Museum.