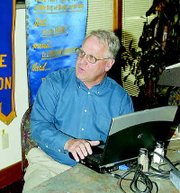 Rotarian Randy Schuler was the guest speaker at Monday's Noon Rotary Club meeting. Schuler spoke about his hobby of riding along railroad tracks, some abandoned and some not. He also gave a slideshow of some of his trips.
The railroadin' Rotarian got involved with the hobby about 12 years ago when a friend of his in Nashville gave him a call and told Schuler he had a new sport. When Schuler asked what this new sport was, he thought his friend said 'speeding cars' instead of speeder cars.
"I was a bit disappointed when I found out they were railroad cars," he said jokingly.
So instead of NASCAR type race cars, Schuler was introduced to speeder cars.
According to the website, www.narcoa.org, the speeder car's actual name is the railroad motor car. These cars, that top out at 35 m.p.h., got the nickname 'speeder' because they were so much faster than the manually powered pump cars they replaced.
Speeder cars were used to routinely inspect the many miles of track for defects. Hy-rail vehicles have now replaced the speeder cars. Hy-rail vehicles are standard road vehicles with retractable guide wheels that can operate on a road or a rail.
Schuler travels with between 20 and 30 other cars when he goes out on the rails. The group gets a track warrant from the railroads so they can travel. A track warrant is permission from the railroad to travel on a certain track. When his group gets a warrant, it means that only that group will be on that particular rail. The price for the warrant is negotiated with the railroad and is usually between $80-$100.
These excursions the group takes range from one day to over a week and take place in almost all parts of the United States and Canada.
Schuler said many of these trips are in remote and very scenic areas that are impossible to see from the highway and provide a breath-taking experience not available by other means of transportation.
He gave the example of a rock slide he saw on the Columbia river that wasn't visible from the highway but, on the rails, he was right in the thick of it.
"You meet a lot of interesting people on the rails," he said.