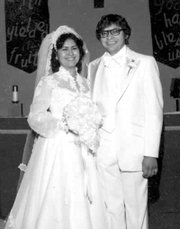 Jorge and Socorro Bazaldua, owners of Panda Bear Child Care in Sunnyside, will celebrate their 25th wedding anniversary Friday, Nov. 4.
Mass will be held at 5 p.m. at St. Joseph Catholic Church in Sunnyside. Friends and family have been invited to a reception and dance that will follow in the St. Joseph gymnasium.
The Bazalduas, who were married on Oct. 25, 1980 in Sacred Heart Catholic Church in Prosser, have resided in Sunnyside for 35 years.
Host and hostesses at the party will be their children, Jorge and Laura Bazaldua of Sunnyside and Marisol Bazaldua of Pullman.