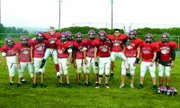 GRANDVIEW - Whether running, receiving or playing smash-mouth defense, James Vela is a triple threat for Grandview's football team.
Vela's versatility was on full display last weekend at Bonney Lake. The senior rushed for 104 yards and three touchdowns, caught five passes for 128 yards and another touchdown and collected 12 tackles and two interceptions on the defensive side of the ball.
That effort earned him a Player of the Week nomination among Yakima Valley athletes.
For the season, Vela is Grandview's second leading rusher and has the most receiving yards of anyone on the team.
"James provides that leadership that keeps the young guys accountable," said Grandview football coach Dustin Lamb.
Speaking of both Vela and senior quarterback Brandon Artz, Lamb added, "They've played hurt and through tough times but they're prospering now as a result of it."
Like Artz, Vela has also prospered in the classroom and among his peers as an elected student official.
Vela said he's thinking about playing football at the collegiate level, but he's got bigger plans.
"I just don't want football to interfere with my goals," he said.
His goals?
"I want to go to the University of Washington and eventually be a surgeon," Vela said.
All of which means Vela looks set to excel where it counts most-in life.
John Fannin can be contacted at (509) 837-4500, or e-mail jfannin@eaglenewspapers.com
Artz leads 'Hounds into playoff season
by John Fannin
GRANDVIEW - Call it the right plan at the right time, but Grandview football coach Dustin Lamb's spread offense found in senior Brandon Artz the right guy to launch the wide open aerial attack.
"I had a great quarterback at Ilwaco for the spread offense and I never thought there'd be another guy as good," said Lamb, in his second season at the Greyhound helm. "But in Brandon I've actually found someone better!"
Making the most of a fleet set of receivers and sturdy line, Artz threw for over 1,800 yards in 2004 on the way to earning the CWAC's player of the year award.
He's pretty much met that standard again this year, closing the regular season with 1,603 yards passing, a 60 percent completion rate and 17 touchdown tosses compared to just five interceptions.
"I've got a great line to protect me," Artz said in deflecting praise to his teammates. "All I do is throw the ball out there and the receivers make the plays."
And, according to Lamb, quarterback isn't even Artz's best position. "He's a great safety and the leading tackler on our team," said Lamb. "His best chance to play college ball may actually be on defense."
A top-notch student and a leader among his peers, Artz is already looking to college. "My hope is to play football at Eastern Washington University," he said.
Artz said he will miss the camaraderie and Friday night lights of high school football.
But the year's not quite finished. There's still the matter of the "second season", football's playoffs.
Grandview travels to Leavenworth Friday for a District playoff game at Cascade. A win there vaults the 'Hounds into a state playoff game at home on Saturday, Nov. 12.
However many games the 'Hounds can extend their season, Artz will leave behind a legacy for future Grandview quarterbacks running the spread offense.
"His attitude sets a great tone for future quarterbacks in this scheme," said Lamb. "Both Brandon and James (Vela) are role models for the younger guys. They're an example of what you can be when you study and work hard."