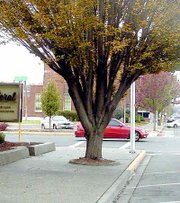 Blind intersections - they are crossroads that make even the nicest of folks cross.
Twice at recent Sunnyside city council meetings concerns have been raised about view obstructions at crossroads in town.
At the Oct. 10 council meeting, Sunnyside resident Don Padelford expressed concerns regarding the intersection at 11th Street, by Sunnyside Community Hospital. Padelford's suggestion was to make the intersection a four-way stop.
During a council meeting in September, a resident noted safety concerns for motorists pulling into traffic at Eighth and Edison.
No doubt other motorists as they drive out and about find places where the view is obstructed by vehicles or foliage as they try to pull out into traffic.
Or, perhaps they feel a four-way stop should be in view.
What to do?
Call city hall, that's who.
"Each time we get that type of complaint about shrubs or trees that are blocking views for traffic we have them trimmed back," noted Sunnyside City Manager Bob Stockwell.
He added that if a stop sign is requested for an intersection, the city will investigate to see if one is warranted.
Stockwell said he personally drove to the areas referenced at recent council meetings, and found the immediate sight concerns were addressed.
Padelford's request for a four-way stop, though, will take a while longer. "That takes several weeks of study," said Stockwell.
As far as traffic views blocked by parked cars, Stockwell said vehicles will be ticketed if they are parked too close to the corner and outside of marked spaces.
As long as cars are parked in designated spots, though, there's not really much the city can do.
"Those spaces have already been measured out from the corner, so they really can't be changed," noted Stockwell.