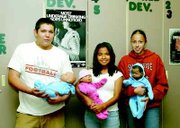 Virginia Frausto, a 14-year-old freshman at Sunnyside High School, never thought about having a baby or what kind of changes in her life a baby might bring.
She thinks about it now.
Her first day brought about a weird feeling. She had a big responsibility and that hit her hard. The baby wasn't her mother's or her sister's. Its care was put entirely on her shoulders.
"The first night was very hard," she said. "I was woken up about 10 times that night. The baby woke up first because she was hungry, then she kept waking up to be burped or changed."
A tough wake-up call for a 14-year-old.
Fortunately, Frausto is in Roxanne McNerney's child development class and the baby is not real, but a computerized doll that needs to be fed, cuddled, burped and changed almost like a real baby.
Frausto and other classmates participated in the baby-think-it-over program offered at Sunnyside High School.
"The program helps students to realize the responsibilities that come with parenthood," McNerney said. "Hopefully it helps them realize how much responsibility it takes, how much time it takes and how much effort on their part it takes."
McNerney said Yakima County has the highest teen pregnancy rate in the state and she hopes the program will help young people choose to wait to have children until they are better able to handle the responsibility.
The students who participate in the baby-think-it-over program take home a baby doll over the weekend. From Friday until they turn the baby in on Monday morning, they must care for their baby.
"When I first got into this class I really wanted to do this," said Yanet Candido, a 17-year-old senior at SHS. "I was excited about it because I have taken care of kids my whole life."
Candido said her first night was easy but by the last night, things had gotten much harder.
"She cried a lot and I had to be up all night," she said.
Jose Lara, another 14-year-old freshman at SHS, also participated in the program.
"I thought it was going to be hard, but it was easy," he said. "The first night it didn't really start crying until about 10 or 11. I checked it and it was hungry and needed to be changed."
His second day was a little harder.
"It would cry a lot and not be quiet," he said. "I changed its diaper and fed it, but it still kept crying."
McNerney said the students who bring home the babies come back in and say it's a lot harder than they thought it would be. When they bring in their reflections, their reaction is to postpone having any children.
"That's basically our goal, for them to wait until after high school to have children so they can be responsible parents," McNerney said.
Most students are ready to give the babies back when they are done with the weekend but students do get attached.
When Candido had to give her baby back on Monday she was tired but a little sad. "I really got attached to it," she said.
Frausto agreed. "I was talking to it," she said. "You get attached to it. Kind of a mother feeling."
Just last weekend, a student took a baby home that she didn't want because she said it was ugly, McNerney said. When she returned the baby, she didn't want to give it back and actually shed some tears. She had grown quite attached to it.
One girl told McNerney she woke up hearing the baby crying even though she had turned her baby in the day before.
"They start getting those instincts to take care of children right away," McNerney said.
So what have these kids learned from this project?
Lara said he learned it's too soon to have a baby right now.
"I learned it takes a lot of responsibility and experience to raise a baby," Frausto said. "The baby comes before you."
Candido added, "The whole experience taught me to think before you act. I think this should be a mandatory class. I think if someone got the feel for what it's like, they might think again about having sex."
Candido, who plays high school sports, realized she would probably have to give that up and take a job if she were to have a child right now.
McNerney hopes the project teaches the students to realize the responsibilities that come with parenting and that putting off having a child is the best thing to do.
However, because many of the teenagers are pregnant or parents already, McNerney said she hopes they learn good parenting skills through the program.
Lara added he thought kids should think of the consequences before having sex.
"Think before you act," Frausto said. "You never know when you'll get a little surprise."