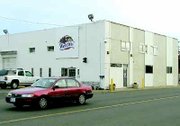 KENNEWICK - Approximately 165 employees at Welch's Kennewick plant will be laid off when the site permanently closes in February 2006.
In continuous operation since 1941 - and a Welch's plant since 1953 - the Kennewick plant's fate was shaped by market forces beyond the company's control, said Jim Callahan, Director of Corporate Communications.
The declining market for frozen juice concentrate and California's decision to look elsewhere for juice to serve its WIC nutrition program were a double blow to Kennewick's plant, a packaging and production facility.
Speaking from Welch's national headquarters in Concord, Mass., Callahan said the closure will have no impact on the two receiving facilities in Grandview or on local grape growers.
Kennewick's production will be shifted to the company's plants in North East Pennsylvania and Lawton, Mich.
Sunnyside resident Herman Kilian has been growing grapes for Welch's since 1953 and agreed with Callahan's assessment that local producers will not be impacted by the Kennewick closure.
"That's all news to me," Kilian said of the closure when contacted yesterday. "Maybe it's cheaper to ship raw juice in a tanker rather than a finished product from here."
Kilian continued, "I personally think they've just found a cheaper way to deliver product. They're not reducing production so this won't hurt the grower as such." He added, "It's not going to impact us because they're still marketing the product as best they can."
Callahan noted Kennewick's plant numbers reflected the market changes. "Since 2000, production has only been up a total of one percent," he explained. "This year production has declined by 750,000 cases from 2004."
But that's not the fault of Kennewick's employees, Callahan emphasized.
"It was a very difficult decision made even more difficult by the excellent performance of the employees," said Callahan. "They are top-notch people and it will be hard to lose a part of the family."
In May 2005 Kennewick received a food and packaging award as "small plant of the year" by a trade publication.
Added Callahan, "It's just that the scale of business trends were working against them (the Kennewick staff) and beyond their control."
Welch's will work with the city of Kennewick on future plans for the company's 7.5-acre site, said Callahan, including the possible sale or lease of two buildings measuring a total of 210,000 square feet.
There is a slim ray of hope that some of the Kennewick employees will be transferred to Grandview, said Callahan.
"We can't create new jobs for people," he explained. "But there is some consideration of moving a few employees from Kennewick to Grandview."