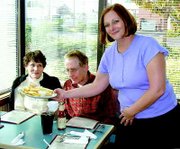 It may be the middle of a heavy breakfast rush or a slow afternoon, but guests at the Sunny Spot restaurant in Sunnyside will always find waitress Sabrina Lyons in a sunny mood.
The Sunnyside native has been at the Sunny Spot since August 2004 and has more than 20 years of experience in the restaurant business.
Her work experience isn't limited to restaurants. Occupations as wide-ranging as logging and bookkeeping are on her resume.
Through it all, Lyons, 36, said she comes back to waitressing because of the people she meets and the energetic pace of the work. "I get to meet a lot of interesting people in this line of work," she continued.
Some of the interesting folks she's met at the Sunny Spot include war veterans, people traveling from other states and even government officials.
"It's like family here," she said. "People come here and we can give them a break from cooking."
She praised Sunny Spot owners, Sue and Gary Hook, for maintaining a friendly, family spirit within the work staff. "I work with a great bunch of people," she said.
For Lyons that family spirit is also literal, as husband Larry is a cook at the Sunny Spot.
After living in the Tri-Cities area, the family moved to Granger last year because of the city's school system.
"They've been recognized for their achievements and even invited to Washington D.C.," Lyons said of Granger schools. All three of her children - Justin, 16; Kyrsten, 13; and Corinna, 10 - are students in the Granger School District. "They love it," she said.
Lyons attributes her sunny spirit to her "role model," older sister Corinne Haley.
"She's my biggest role model and hero," Lyons enthused. "She doesn't let life get her down, she stays happy and positive."