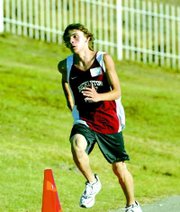 Simply making it to state put Bickleton cross country runner Junior Hernandez in elite company.
Hernandez is one of just 75 runners to make it to the state meet in Pasco on Saturday, and one of only 14 who qualified based solely on their performance in last weekend's regional cross country meets.
The other runners advanced to the state meet with their respective teams.
Hernandez finished 13th in the race. He could have finished as low as 20th and still qualified.
But if that weren't enough, Hernandez is as much as five years younger than some of the boys he's been competing against because Hernandez is only 13 years old and in the 8th grade.
But is he intimidated by the more physically developed, old runners?
"No," he said. "I've done what I've wanted (to do.)"
What Hernandez wanted to do was simply to make it to state.
Hernandez said his only real goal now that he's made it to state is to get a personal record at the state meet, and beat his previous PR of 17:45.
Next year, Hernandez said he's setting a more lofty goal. He wants to finish in the top eight.
It's something his coach, Darrell Lang, thinks is very possible.
Lang said many people talk about runners going to state three or four times but, "if he keeps it up, he's got a chance to go five times," Lang said.
And he's got the work ethic to get the job done.
"He seems to pretty much do whatever I ask him to," Lang said of Hernandez. "I don't hear him complain a lot."
That work ethic has put Hernandez in a position only five people in the past 16 years have been in.
Hernandez is only the sixth 8th grader, boy or girl, to qualify for the state 'B' meet. The last qualified in 1997.
He's also only the third state qualifier since Lang began coaching the program six years ago.
Lang said he spotted Hernandez in his physical education class.
"He was always leading the pack whenever we ran laps," Lang said.
One thing Lang said would improve Hernandez's chances for improvement would be if more people turned out for the cross country team.
Bickleton's team lacks runners that can challenge Hernandez, Lang said. Schools like Rearden and St. George's are a lot deeper. The camraderie and competition among runners on those teams make them much better, Lang said.
Hernandez said he's glad the season is almost over. He's tired of running, but basketball season is just around the corner.