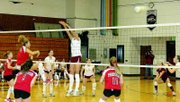 GRANDVIEW - The Lady 'Hounds rolled past Omak 25-6, 25-12 and 25-8 on Thursday night to move on to the second round of the District 5/6 '2A' Tournament. The win improves Grandview's overall record to 24-4.
Sophomore outside hitter Kealey Johnston led the attack for the 'Hounds with 13 kills, 17 service points and six aces.
Sophomore Katie Veloz added another 18 service points and six aces to the service attack.
The potent Lady 'Hound attack was fed by junior setter Chante Bottineau, who had 24 assists to lead the team.
Coach John La Fever said a team effort, led by a well-rounded offense really sealed the victory for Grandview.
"All the girls played well," he said. "They have a pretty balanced attack."
Sophomore middle blocker Christine Penwell added five kills, and freshman middle blocker Kinzi Poteet and sophomore middle blocker Raissa Licano added eight apiece.
On the defensive side, Poteet had 14 blocks. Ricano also had two.
With the victory Thursday night, the 'Hounds move on to play Chelan this Saturday at noon at Kiona-Benton. If they beat the CWAC North's no. 1 seed, they'll most likely play Ephrata or Ki-Be in the District 5/6 Championship.
La Fever said his team only needs to win one game to advance to the state tournament and that's what his team would like to accomplish.
"That's kind of the main goal," he said.
He said he's tried not to think about winning a state championship.
He credits hardwork and teamwork as factors for his team's success.
La Fever said members of his team don't like to be singled out for their play, rather, they like to be recognized for their overall effort.
"They don't like to be separated," La Fever said.
Though his team only needs to win one game to reach the state tournament, he said he's not looking past the Lady Goats, nor is he ready to punch his ticket to the SunDome yet.
La Fever said the match against Chelan should be competitive.
"We'll match up real well," he said of Chelan.
Until then though, La Fever said his team is going to take the rest of the season one game at a time.