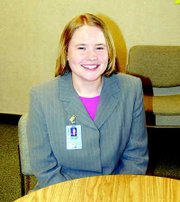 Jennifer Allen doesn't speak any Japanese; not one word. But she's not letting that stop her. The Pioneer Elementary School vice principal will be spending time in the Land of the Rising Sun from Nov. 20 to Dec. 8.
Allen was chosen to participate in the Japan Fulbright Memorial Fund Teacher Program from more than 2,500 applicants.
The program gives primary and secondary educators the chance to spend three weeks in Japan to help promote intercultural understanding between the United States and Japan.
"My main interest is how other countries structure their educational system," Allen said as one of her reasons for wanting to go.
Allen, a Puyallup native in just her second year as Pioneer's vice principal, said she heard about the program from a friend and decided she wanted to pursue the opportunity.
In order to even be considered, Allen said she had to write several essays and include letters of recommendation.
She also had to produce a plan to help ensure that her visit would have an impact on the community.
Allen said the way she hopes to impact the community the most is by posting information about where she's going and what she's doing on a Web log - or blog.
That blog, will contain updates about where she's been, where she's going and will hopefully have pictures of those things, she said.
The blog already contains PowerPoint lesson plans for teachers, but Allen hopes to add to it.
"Hopefully I'll be able to come back with more lesson plans," she said.
In addition to her trip, Allen said a woman named Akiko will be coming to Sunnyside to help teach Japanese culture to students at Pioneer.
She's coming through the Japanese School Teaching Assistant Program. Allen said the program is completely unrelated to her trip, but students will get the chance to learn things like culture and calligraphy.
"It's going to be really exciting," Allen said.
Allen is going to get the chance to meet Akiko prior to her coming to Sunnyside.
During her trip to Japan, Allen and Akiko are going to meet up in Tokyo, which just happens to be where Akiko lives.
In addition to the exposure to Japanese culture, Allen said teachers from all 50 states will be on the trip with her. She said that will be a good opportunity to talk to other teachers and learn about different ways of teaching.
In a sense, the trip will give her a chance to learn about various cultures within Allen's own country.
For now though, Allen said she wants people to visit her blog, and, during her trip, she'd like feedback from the community.
"I really want to get the word out," she said.
Allen's blog is available at www.adventuresinjapan.blogspot.com.