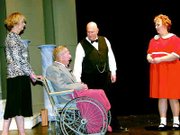 Mark your calendars! There will be five opportunities in November to watch the rip roaring musical, Annie, as performed by the Over the Hill Senior Theatricals at the Sunnyside High School auditorium.
Evening performances are set for Nov. 12, 18 and 19 at 7 p.m. with matinees on Nov. 13 and 20 at 2 p.m. Tickets for the extravaganza are $8, on sale at the door or at the Daily Sun News in Sunnyside, Safeway Food and Drug in Grandview and Elfers-Lyons Drugstore in Prosser.
The cast, drawn from among your friends and neighbors in the Lower Valley, is headed by Sheila Hazzard as Annie, the little orphan girl who skims past risks to come out on top . . . singing.
Others who join her in song in key roles are the sour-faced, sly and slightly evil Miss Hannigan, played by June Sanderson, and Annie's savior, Oliver Warbucks, as portrayed by Ron Jetter.
Another key, but more than slightly obnoxious, character is Rooster Hannigan, played by Lloyd Hazzard, who also takes on Rooster's alias, Ralph Mudge, whose wife is Shirley Mudge (Barbara Davis, who works at American West Bank in Sunnyside).
Hazzard also has a bit part as a police chief. In real life he is deputy chief at the Sunnyside Fire Department.
His wife, Sheila Hazzard, comes to her role as Annie as a trooper who has performed in the last four plays produced by the Over the Hill Senior Theatricals.
"We picked her for Annie because she could sing and act the part. And she's a good leader among the cast," said Director Karen Santos.
When she isn't on stage, Hazzard is a secretary at Grace Brethren Church and is also employed at Fashion Corner in Sunnyside.
Ron Jetter, pastor of Our Saviour Lutheran Church, not only takes the part of Daddy Warbucks, but looks like him, right down to the bald pate that added to the original's macho, take-charge appearance.
This energetic production involves 51 characters. At least 20 cast members take dual roles-and that's a lot of work for the amateur thespians who answered the call of the footlights.
Lynn Hewitt, a producer of the show, said the audience might be surprised to see just who did take parts in this year's production.
"For a few brief weeks, they set aside their ordinary life to live dreams close to their hearts," said Lynn Hewitt, who was facing her own challenge just staying up with the practices since she broke her foot.
Karen Santos, director of the play, also took on dual duties, serving as stage manager and working on set design with Sheila Hazzard.
Santos has been acting in Sunnyside productions since she moved here in 1975. Annie is her first experience at directing adults.
"I directed some children's theatre in plays sponsored by the Valley Musical Comedy Company (when it was in operation)," said Santos.
Santos has had parts in nearly all of the Over the Hill plays, some small, and some major roles. Her last acting part was in Mame last year.
Betty Hames, along with Hewitt, is also a producer of the show, with Sue Jetter directing a choir that consists of the entire cast. Music is provided by pianist Jean Corliss and Lois Olson on the keyboard, with Diane Lillie serving as rehearsal accompanist.
Marlaine Mars choreographed the production.
Costumes were in the hands of Julie Trumble, Lucille Rohman and Betty Minnich, as well as cast members. Cathy Hunsaker is hairdresser for the cast.
While not in the spotlight, Dan Aguilar will be behind it, providing the lighting and in charge of sound. The actual spotlights will be in the hands of Veronica Sustaita, Katie Lies and Kathy Brandon.
Betty Hames and Dee Sparrow are house managers.
Many of the actors and actresses pitched in to construct the set. It took a full dozen to put it together. They are, in addition to Santos, Lloyd Hazzard, Ron Jetter, Julia Hart, Dan Santos, Sheila Hazzard, Lucille Rohman, Sue Jetter, Betty Minnich, Bob Taft, M.O. Reynold and Rudy Slupsky.
Katie Knee and David Knee join Hazzard, Reynolds, Hart and Dan Santos as stage crew, helped out by the cast.
"The cast and crew have a good time performing for you, and invite everyone to come and enjoy the fun," said Producer Hewitt.