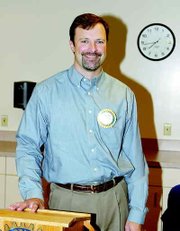 Jeff Barrom was the speaker at the Sunnyside Daybreak Rotary meeting this morning.
Barrom, a broker for Strain-Barrom Insurance and a Rotarian, talked about the Rotary Foundation and the vision of Rotary.
After speaking briefly, Barrom played two short videos that talked about what Rotary does around the world.
Rotary Foundation was formed in 1917. It's a international foundation that provides humanitarian assistance around the world, mostly in 3rd world countries.
"We received a matching grant from the foundation that enabled us to supply dictionaries to fifth-grade students in the area," Barrom said.
Rotarian members are encouraged to give $100 to the foundation every year. Those who give $1,000 become part of a group called the Paul Harris Fellows. This is where the bulk of donations in Rotary comes from.
With this money, Rotary is able to fund projects like the Polio Plus program. Around the world Rotarians have raised $240,000,000 to support universal child immunizations. The Rotarians are committed to eradicating polio by the year 2005. "I think there are only five countries left in the world where polio still exists," Barrom said.
Another program is the Ambassadorial scholarships. Rotary sends students overseas to study in other countries. The hopes are for the scholar to experience the social, economic and political life of another country. Each scholar has a Rotarian counselor in their home and host country.
The Rotary Foundation also helps people live a better quality of life. One program in Bangladesh taught the locals to raise fish.
A man who started out with one fish pond now had nine. Raising the fish gave the people a good, quality source of protein and put people to work helping the economy.
In Central America clean water projects help the people. By having clean water, diseases such as Dysentery are being reduced and enabling people to live cleaner, healthier lives.