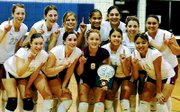 BENTON CITY - Winning a district championship was sweet, but for the Grandview Volleyball team beating Kiona-Benton on their home turf was even sweeter.
This past Saturaday, the Lady 'Hounds advanced to the district championship against Ki-Be sweeping Chelan 25-14, 25-20 and 25-19.
The win gave Grandview a berth in the state championship, but one team still remained - Ki-Be, the only '2A' team to beat Grandview this season.
With the win the showdown was set, and the game didn't disappoint.
Ki-Be won the first game 25-22. Grandview battled back taking the second game 25-11. Ki-Be took the third game 25-18 to put the 'Hounds on the verge of a second place finish. But Grandview wouldn't be defeated. The Lady 'Hounds took the final two games 25-13 and 15-4 to win the district championship.
"It was a good district tournament," Grandview Coach John La Fever said.
Balance ruled the day for the 'Hounds.
In the district tournament sophomore Kealey Johnston had 32 kills, 48 service points and eight aces.
Sophomore Raissa Licano added 36 kills, freshman Kinzi Poteet added 26 kills, sophomore Christine Penwell had 21 kills and freshman Sydney Mottice had 16 kills.
"That's a pretty good balance," La Fever said of his team's performance.
The Lady 'Hounds enter the state tournament with a record of 26-4. Three of the losses have come at the hands of '3A' and '4A' schools La Fever said.
Grandview will face Mt. Baker at 9 a.m. on Friday. Depending on how they finish the match, they could play again at 2:30 or 4 p.m.
Despite the fact that his team is young, with only one senior, La Fever said he thinks his squad is ready for the state tournament.
"I think we'll match up well with anybody," he said.