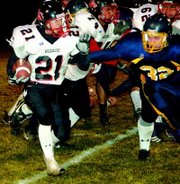 NACHES - Sunnyside's football team saved the best for last with a 40-9 season-ending romp at 2A Naches Valley on Friday.
The win was the first on the season for the Grizzlies, which ended the 2005 campaign 0-6 in Mid-Valley League play and 1-9 overall.
"We controlled the game from the beginning," said a pleased Coach Mark Marro. "The offensive line did a real good job of blocking."
A testimony to Sunnyside's dominance was junior running back B.J. Miller's career day.
Miller reaches the century mark in rushing every time out, but on Friday he toted the pigskin 32 times for a personal-best of 233 yards. "He gained eight or ten yards a carry from the holes the line opened up for him," noted Marro.
In the process Miller also set a school record of four rushing touchdowns in one game.
"There were a bunch of guys on the record books with three rushing touchdowns so B.J. broke the logjam," noted Marro.
After taking a 7-0 first quarter lead on Miller's five-yard scoring run, Sunnyside put the game away with a 27-point outburst in the second stanza.
Two of the second quarter scores came on rushing touchdowns by Miller while two others resulted from big plays.
Joseph Villanueva intercepted a botched fake punt attempt by Naches and returned it 48 yards for one score while Brandon Coleman hauled in a 70-yard bomb from Adrian Cantu to put the Grizz up 36-9 at halftime.
The second half was quiet, with the exception of Miller's record-breaking score in the fourth quarter.
While Sunnyside enjoyed its first taste of victory on the season, Marro was already planning for next year by rotating quarterbacks Jaime Sambrano and Adrian Cantu.
"They're both coming back next year so we just wanted to give both of them a look," said Marro. Miller also returns next year for the Grizzlies.
"We're going to rest for awhile but we'll be back at it in the spring and we'll have a camp this summer," the coach said in looking to 2006.
Statistics
Passing:
Sunnyside: Sambrano 0-7-0, Cantu, 2-3-75, one touchdown.
Rushing:
Sunnyside: Miller 32-233, four touchdowns; Villanueva 9-77.
Receiving:
Sunnyside: Coleman 2-75, one touchdown.