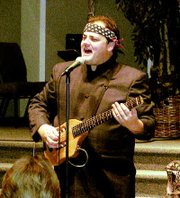 A crowd of 330 turned out Thursday, Nov.3, for the Lower Valley Pregnancy Center's annual fundraising banquet.
Held in the round auditorium at Sunnyside's Neighborhood Church, the event featured not only good food and good company, but Lakeland, Florida comedian Mike Williams.
"My main two lessons for you tonight are these," Williams told the crowd with a smile. "Life is too short not to laugh and life is too long not to laugh."
Williams, a pastor, is a regular on PAX television and coined the original Oscar Meyer jingle.
His impressions of Bruce Springsteen and comic observations of human nature aside, Williams was in Sunnyside for a serious purpose-the Lower Valley Pregnancy Center.
Preparing to enter its 20th year, the Lower Valley Pregnancy Center exists to serve women in unplanned pregnancies, noted Executive Director, Jan McDonald.
"The pregnancies may be unplanned but the babies are not unwanted," she said. "We help them negotiate their way through the pregnancy and provide education to prevent unwanted pregnancies."
The center runs solely through donations from local individuals, churches and businesses, noted McDonald.
To that end, the annual banquet is the Grandview-based pregnancy center's largest source of support. Though firm figures weren't available at press time, McDonald said she hoped the center could raise $57,000 from the evening's program.
"The banquet went really well," she observed. "I think it was better than ever."
Much of the proceeds from last night's fundraiser will go towards converting the Lower Valley Pregnancy Center into a medical clinic.
McDonald explained the conversion will enable the center to offer limited ultrasound service, an on-staff, paid nurse. Further, the pregnancy center will operate under a licensed doctor and have a medical advisory board.
The center hopes to receive assistance with the medical conversion from a Focus on the Family grant.
For more information about the Lower Valley Pregnancy Center, located at 100 E. Third Street, call 509-882-1899 or 1-800-395-HELP.