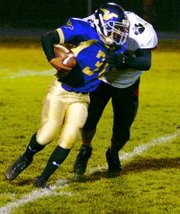 MABTON - One word can describe the Mabton High School football team: Perfect.
Mabton routed winless Entiat (0-8, 0-9) 42-14 this past Friday night to finish league play a perfect 8-0 and finish 10-0 on the season.
Mabton shared the wealth Friday night. Leading rusher Pablo Sanchez carried the ball 20 times racking up an impressive 248 yards and three touchdowns.
Mabton Head Coach D. J. Search said Sanchez had a break out game for the Vikings.
Ray Elizondo also made a contribution to the rushing attack, adding 42 yards and one score on 12 carries for the Vikings.
On the defensive side, Mabton's defense held Entiat scoreless in the first half and only gave up two late touchdowns after the starters had been pulled in the fourth quarter.
Mabton held Entiat to just 148 total yards.
Entiat's leading rusher, Jory Rock, managed just 73 yards on 17 carries, and quarterback Walt Wilson completed just one pass for negative one yards.
Though they'd already clinched a playoff berth and a home playoff game with their win last week, this week's win gives the team much-needed momentum going into the playoffs.
Mabton faces a tough Asotin team in a home playoff game this Friday night at 6.
Search said Asotin comes from a tough conference and will be a good match-up for the Vikings.
"Just like everybody else this year, they outsize us," Search said.
He emphasized that his team needs to execute and continue to play assignment football in order to continue on in the playoffs.
"We've got a good defense," Search said. "Everybody needs to step up."
Search said Asotin will throw several things at the Vikings they haven't seen this year.
Even so, Search said, "we're very similar teams."
Both teams posses a lot of speed, he said.
If Mabton beats Asotin they'll move on to face either Kittitas (5-4) or Rearden (7-1) the following weekend.