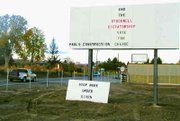 The clock is ticking on what appears to be a contentious conclusion to the ongoing billboard battle between Prosser contractor Tom Paul and the City of Sunnyside.
Under terms of a work stoppage order, Sunnyside will go to court today, Nov. 7, or tomorrow to pursue a court order to remove the political sign, located on South First St.
At the heart of the current saga-the latest chapter in a battle dating back to October 2004-the city says Paul's sign is too close to the public right-of-way.
Paul says he is in compliance with city statutes while Sunnyside City Manager Bob Stockwell counters that Paul's billboard sits 14 feet from the front of his property line, not 20 feet as he says was agreed to.
Referencing an agreement reached with the city in May of this year, Paul said he is meeting his part of the deal.
"The government can't deny use of your property because they think they're going to do something," he noted of the city's claim to have interest in widening South First Street. Paul added that he has acquired a business license for the South First Street site as required in the agreement with the city.
Stockwell claims that Paul agreed to future changes the city may make at South First Street, including the possibility of widening the roadway.
Further, Stockwell continued, Paul has added fuel to the fire.
"Mr. Paul was told to move the footings to the correct location," Stockwell said of the city's directive to move the signs to 20 feet from the front of the property line.
"Instead he set the steel girders and poured concrete," noted Stockwell. "At this point our inspector issued Mr. Paul a stop work order. Mr. Paul refused to abide by the stop work order and finished the billboard."
If Paul does not remove the billboard, Stockwell concluded, the city will go to Superior Court to have it removed at Paul's expense.
A further example of the "he said-city said" bitterness in the billboard battle is Paul's claim that he was assaulted by a city building official.
"Mr. Paul was very agitated," Stockwell said of the event which followed the city's refusal to allow storage sheds at the South First Street site. "The building official simply placed his hand on Mr. Paul's shoulder to try and calm things down. It was a gesture of concern not an assault."
Stockwell added tersely, "The building official was counseled to be more cautious about any physical contact, even in kindness."
For his part, Paul is content to wait for the city's response to his current billboard.
"I'm going to wait and see what they do," Paul said. "It's like riding a dead horse. "I have a conditional use permit, a building permit and I've built a lawful sign."