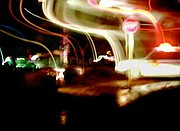 A power pole fire Saturday evening put 733 Sunnyside residences and businesses in the dark from 7:24 to 9:35 p.m. Saturday.
The power outage spread from Pacific Power's sub station at 6th Street and North Avenue to east on Yakima Valley Highway, effecting not only buildings in the city but some outside the city limits.
The trouble started with an insulation device atop a pole on 16th Street between Federal Way and Yakima Valley Highway.
According to Warren Davis, general foreman at Pacific Power in Yakima, the device "leaked over", creating a fire on the pole that burned off its top. That fire twisted under a circuit beneath the transformer . . . and, poof, the lights went out with a loud thump that got the attention of surrounding residents.
"We switched around the problem to bring in power for our customers," said Dave Kvamme of Portland, spokesman for Pacific Power.
"The way we are set up, we can isolate a bad area and go with a loop, switching the effective equipment out (until a permanent repair can be made)."
That permanent repair will probably be underway today (Nov. 7).
Traffic was diverted away from 16th Street Saturday night from Federal Way to Yakima Valley Highway by Sunnyside Police officers, who stood by until temporary repairs were made.
Traffic cones will remain in place around the offending power pole until permanent repair is completed.